Enjoy snuggly softness in four different ways!
This ultra-soft, fleecy-lined, slipper gives you versatile cosiness thanks to its clever design. Simply fold the collar up or down at the front or back and create four different ways to enjoy snuggly softness. It's a great looking, faux-sheepskin style that's as warm and comfy as it looks!
Why you'll love Snoozy...
Soft, breathable, microfibre uppers feel velvety to the touch
Warm, faux-fur lining and sock gives cosy comfort
The collar can be turned up for extra warmth at the ankle
Stiffener in the heel area ensures a stable and secure fit
Seam-free toe area is ideal for sore or sensitive toes
Flexible, rubber soles can be worn outdoors
Please note: this style is not washable
Also available in Camel and Pink. Please click here to view.
Product features
Extra Roomy
Cosyfeet is so much roomier than any other footwear so there is no need to order a larger shoe size than normal just to get the extra width and depth that you need.
Flexible Rubber Soles
Our rubber soles are flexible and lightweight for more comfortable walking.
Made in Britain
This product has been manufactured in Britain.
Wear indoors and out
This footwear is suitable for indoor and outdoor use.
No Quibble Guarantee
If you are not 100% satisfied with a product, for any reason, at any time, you can return it to us for for free (within the UK) for an immediate exchange or refund of the cost of the product.
Size details
Extra Roomy EEEEE+ fitting
Available in sizes 3 to 9
No half sizes available
---
In the press...
Yours reviewed our Snoozy slipper and gave it a '5 star' rating. Click here to read their review.
---
Our Snoozy Slipper has has been featured in the My Weekly magazine...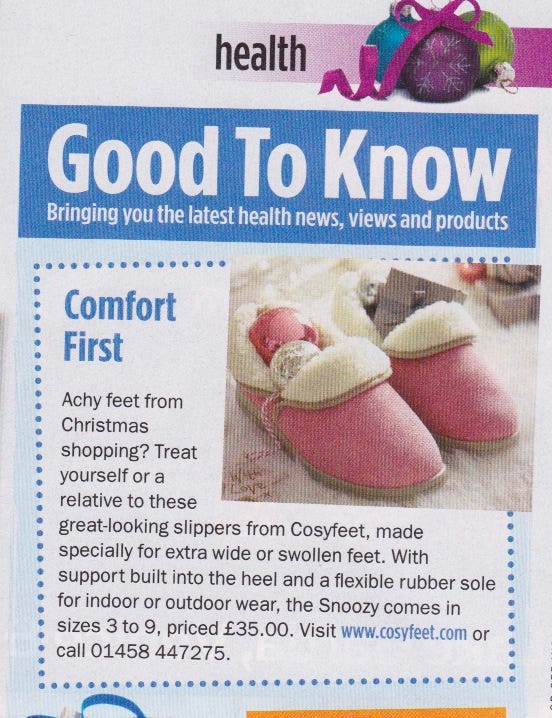 ---
---
Colour details
Available in Sable Mock Suede.
Helpful for…
See our Buying Guide
We've partnered with Feefo, to help us collect genuine customer reviews. After you have received your order from us you will receive an email asking you for feedback about your purchase. Giving this feedback need take no more than 15 seconds.
This product has no reviews yet.
This is a brilliant slipper that's so soft and warm and easy to put on as there are no touch fastenings to worry about. The front and back of the slipper can be worn up or down to suit you. As there is no adjustment with these, they are most suitable for people whose swelling stays the same.
Liz Quartley, Cosyfeet Shop Manager & Fitting Expert
Delivery of Snoozy…
Our standard delivery charge is £4.99 per order.
If the item is in stock we aim to despatch it within 24 hours although occasionally it may take up to 48 hours. We don't despatch at weekends or on public holidays. Delivery is via Royal Mail and usually takes 1 to 4 working days from despatch.
Next Working Day, Convenient Collect and Overseas Delivery are available on this item. Please click here for details.
Returning Snoozy…
This product is covered by our "No Quibble Money Back Guarantee" so you can return it to us for free (within the UK) for an immediate exchange or refund. Please click here for further details.
Useful tips to keep Snoozy looking great…
Allow any mud or stains to dry before attempting to clean them. Once dry, remove any dirt with a soft brush and then wipe with a damp cloth.
If your footwear gets wet allow it to dry naturally. Don't put them in the airing cupboard or near a fire or radiator. Stuffing them with newspaper or tissue will help ensure they maintain their shape whilst drying.
This footwear should not be hand or machine washed.