May is World Foot Health Awareness month, an international event to raise awareness of the importance of good foot health. This year the theme is 'Let's heal the heel pain!'
Heel pain is the most common foot problem worldwide. It usually affects one foot and the pain intensity builds up over time. This year's theme focuses on the fact that anyone can get heel pain. An estimated 1 in 10 people will experience heel pain at least once in their life time.
The causes of heel pain are varied and include nerve entrapment, disc disease, peripheral neuropathy, metabolic-like arthritis, gout, sickle cell disease, fibromyalgia, ankylosing spondylitis and trauma.
The most common heel pain is plantar fasciitis. It is a persistent injury giving both clinician and patient a challenge for longevity of treatment.
What is plantar fasciitis?
Plantar fasciitis means inflammation of your plantar fascia. Your plantar fascia is a band of tissue that stretches from your heel to your middle foot bones. It supports the arch of your foot and acts as a shock-absorber in your foot.
What causes plantar fasciitis?
If you are on your feet for a lot of the time, or if you do lots of walking or running.
If you have been wearing shoes with poor cushioning or poor arch support.
If you are overweight - this will put extra strain on your heel.
If there is overuse or sudden stretching of your sole.
Often there is no apparent cause for plantar fasciitis, particularly in older people.
What are the symptoms of plantar fasciitis?
Pain is the main symptom. This can be anywhere on the underside of your heel. The pain is often worst when you take your first steps in the morning or after long periods of rest where no weight is placed on your foot. Gentle exercise may ease things a little as the day goes by, but a long walk or being on your feet for a long time often makes the pain worse. Resting your foot usually eases the pain.
Which products can help?
Cosyfeet has a range of products that can help relieve the pain of plantar fasciitis: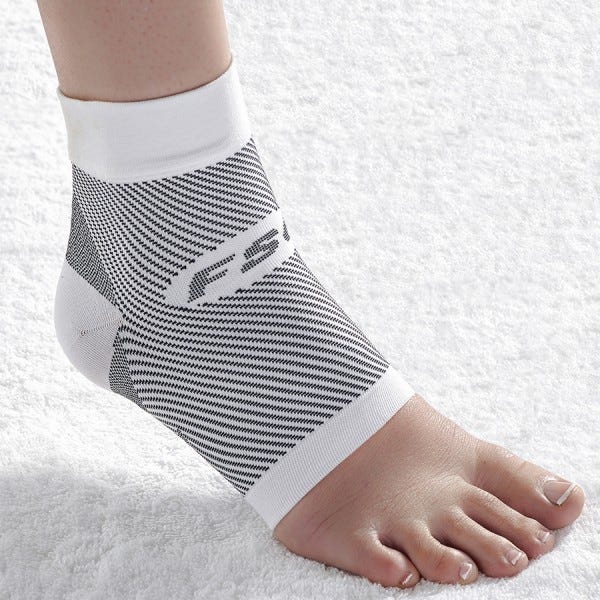 These award-winning, 'stretch-to-fit' sleeves use targeted compression to support your foot and relieve pain. Thin and lightweight, you can wear them under your socks when you're active or while sleeping to reduce morning heel pain.
The patented 'Fasciitis Bar' applies clinically-proven acupressure to pain hot spots and helps the plantar fascia ligament to re-align and prevent re-occurrence.
NatraCure® Plantar Faciitis Insoles
With no painful 'breaking-in' period these squishy ¾ length gel insoles give you immediate relief from underfoot pain. Recommended by podiatrists, they are the only soft insoles designed to combat the pain of plantar fasciitis.
NatraCure® Hot/Cold Plantar Fascia Relief Socks
These soft, stretchy socks contain a gel pack that can be frozen to relieve heel pain or heated to ease arthritis and improve circulation.
NatraCure® Universal Hot/Cold Therapy Wrap
Get quick soothing relief from painful feet. Freeze or microwave the pack for cold or heat therapy. Use cold to ease plantar fasciitis or tired, aching feet.