Pets As Therapy have been our chosen 'Charity of the Year' since March 2018. Pets As Therapy otherwise known as PAT are a national charity that was founded in the UK in 1983. Their aim is to enhance health and wellbeing in schools, hospices, care homes, hospitals and more through the visits of trusted volunteers with their behaviourally assessed animals. PAT has over 6,000 volunteers and is very supportive to those who take part.
All pets, though most commonly dogs are initially assessed before doing valuable work for those in need. Dogs need to be calm, collected and not bark or jump too much so as not to alarm or scare anyone they help.
Being animal lovers here at Cosyfeet, Pets as Therapy were an easy choice for our 'Charity of the Year'. The fact they're doing such lovely things for the community caught our attention as well was as the organisers and volunteers being a delight to communicate with.
Pets As Therapy have been our 'Charity of the Year' for almost 2 years now. To celebrate the funds we have raised so far for them, we hosted a Christmas party in our Cosyfeet shop with local volunteers and their dogs and handed over a cheque for £10,563.50 to the charity. Seven therapy dogs attended the celebration with their owners. Mince pies were enjoyed by all, both humans and dogs!
In attendance were Volunteer Coordinators Diana Barnes and Spike Audus with Sam the Great Dane and Misty the Border Collie. Guests also included Golden Retrievers, Kelvin and Oslo with their owners Sheila and John, Buddy the Shih Tzu with her owner Moira, Fred the Irish Wolfhound with his owner Jackie and Harvey the Cockerpoo with his owner Louise. Pets As Therapy Trustee, Stuart Lindsey, came along too, to accept the cheque on behalf of the charity.
Not all of the volunteers who attended our event had previously met each other. It was nice to see them meeting for the first time and bonding over their dogs and talking about the people they have helped through volunteering with Pets As Therapy.
One of the initiatives they're involved with is the Read2Dogs scheme, which has been introduced in a number of schools to help children overcome feelings of nervousness and self-consciousness when reading aloud. The presence of a therapy dog, as well as their teacher, makes them relax and feel more self-confident, enabling them to develop their reading skills more easily.
Moira from Long Ashton, near Bristol brought her 3 year old Shih Tzu called Buddy. They've only just started working with PAT in the last few months but are really enjoying it.
When Moira decided to call her female Shih Tzu, Buddy, her daughters strongly disagreed, saying "You can't call her Buddy that's a boy's name" but Moira stuck to her guns. She knew this was the right name for her new canine friend.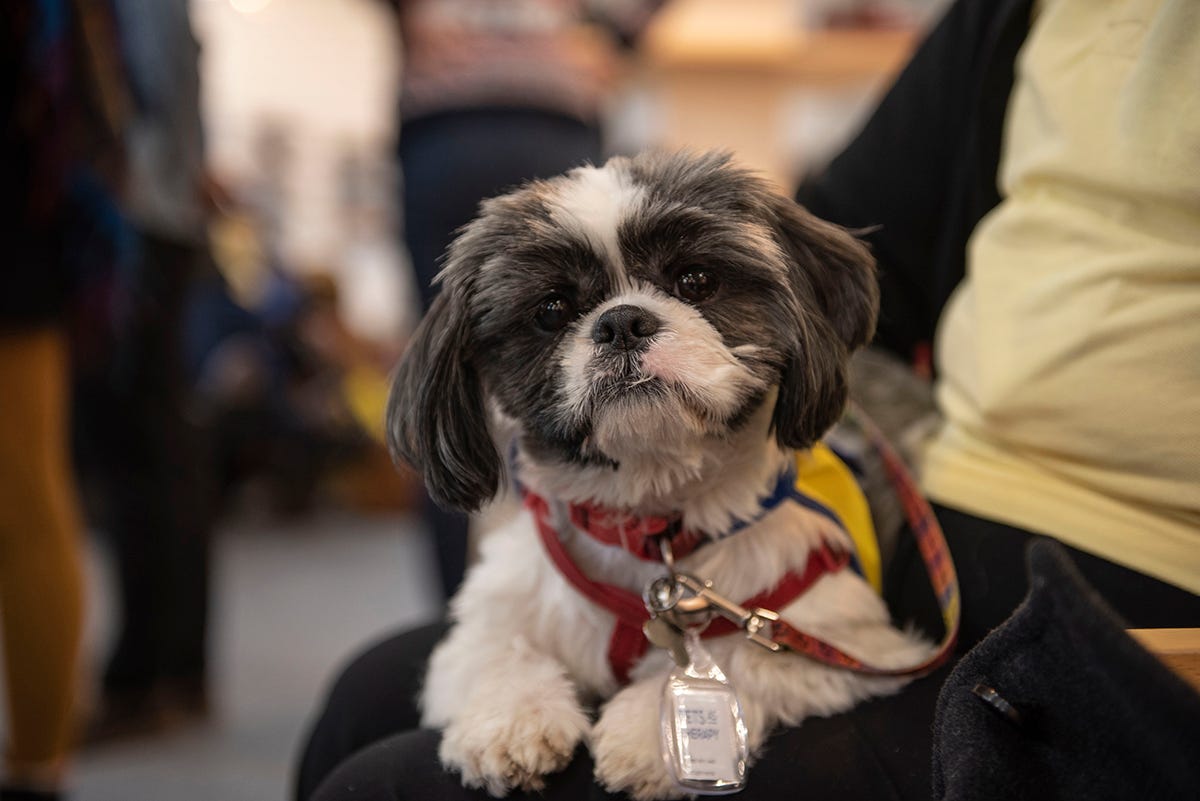 Shih Tzu, Buddy
The work they've done with PAT so far is visiting the Ambulance base, where the hard working crews play with the dogs in their break times to bring the mood up.
Buddy loves people and gets on well with other dogs as long as they meet slowly at first, as she is usually the smallest but 'children are her favourite creatures'.
The moment Moira knew Buddy was perfect for PAT was when they visited a care home when Buddy was very young and she sat on someone's lap who had dementia, and the dementia patient loved having Buddy to cuddle and smiled so sweetly. At that point, Moira knew that Buddy would be perfect for Pets As Therapy.
Moira's young granddaughters love spending time with Buddy at Christmas time, this year Buddy will be wearing a bandana with Father Christmas on it and the family will love it!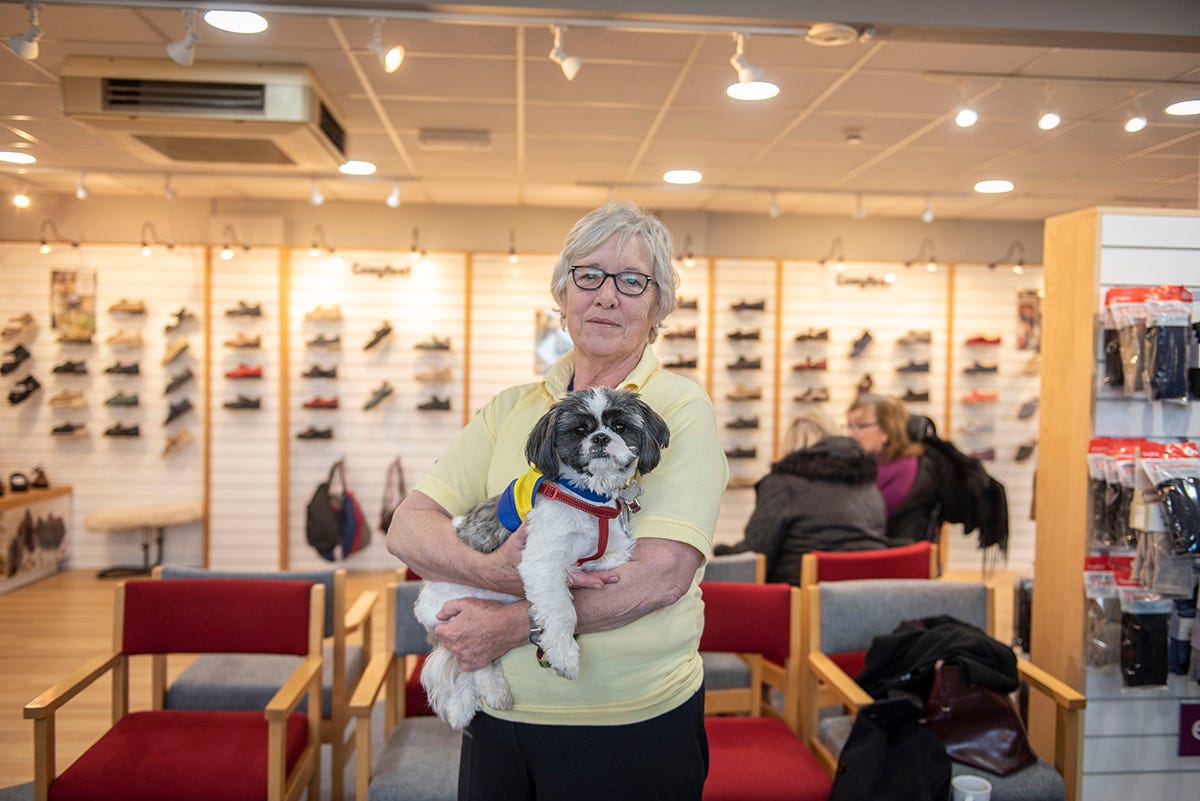 Moira with her Shih Tzu, Buddy
Spike from Keynsham brought his 13 year old Blue Merle Border Collie, Misty.
In the last 6 months since we saw them, they have been doing a lot of assessments of other dogs that have wanted to join Pets As Therapy around the North Somerset area.
They have also been visiting quite a few care homes, the residents absolutely adore the calming nature of Misty.
Blue Merle Border Collie, Misty
Jackie brought 2 year old Fred, the huge but gentle Irish Wolfhound who stands at 37" at the shoulder!
During his assessment by Spike, Fred was completely unfazed by an exuberant 2-year old running up to his face and then running underneath him over and over again as if he was an overhead bridge. Fred just looked round as if to say "Oh yeah, you can do that can't you because I'm big." Spike thought at the time that if Fred could be that chilled he was definitely of a suitable temperament to be a PAT dog.
Fred has recently been registered as a dog blood donor and is about to start work in a junior school in the Mendips. Jackie decided to join PAT with Fred as they both love people, dogs and want to help as much as they can.
One of Fred's hobbies is visiting Pets At Home and choosing toys he wants off the shelves.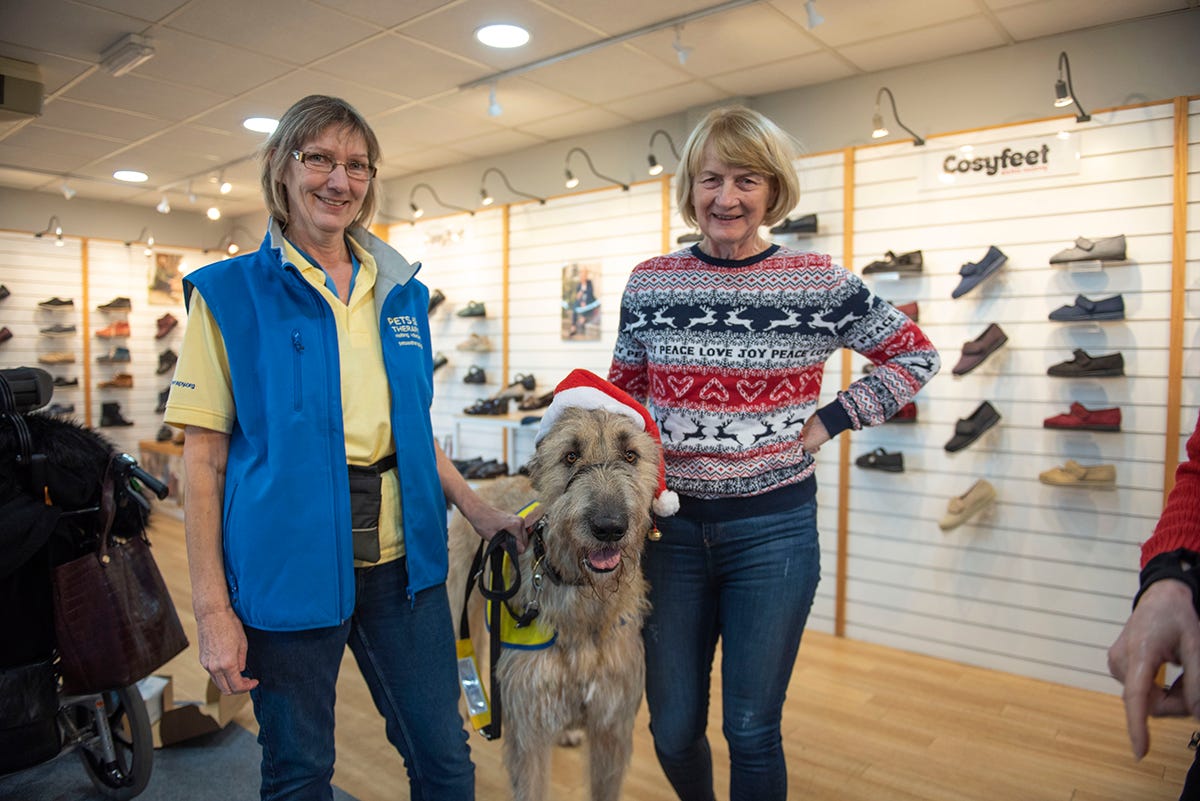 Jackie with her Irish Wolfhound, Fred and our Cosyfeet Finance Director Jackie Bemmer.
Louise from Ston Easton near Bristol brought her 2 and a half year old Cockapoo called Harvey. Louise and Harvey are fairly new to PAT but are really enjoying it.
She's always told her dog looks like her when she wears her hair curly, think of the film 101 Dalmatians.
Harvey's favourite pastime is chasing squirrels, which thankfully he doesn't manage to catch. His best friend is Louise's cat, Percy. They cuddle up together.
Harvey loves visiting care homes, and even though he's not supposed to he loves to get in bed with the residents and they love it too. He never wants to leave, so he hides under the residents' covers.
Louise with her Cockapoo, Harvey
Diana and her husband Mick came with Sam their Harlequin Great Dane.
In the last 6 months they have been coordinating a lot of PAT events and assessing new dogs amongst visiting schools and care homes. 8 year old Sam, the Harlequin Great Dane likes to relax by sitting on the lap of his owners on the sofa even if he weighs 71kg!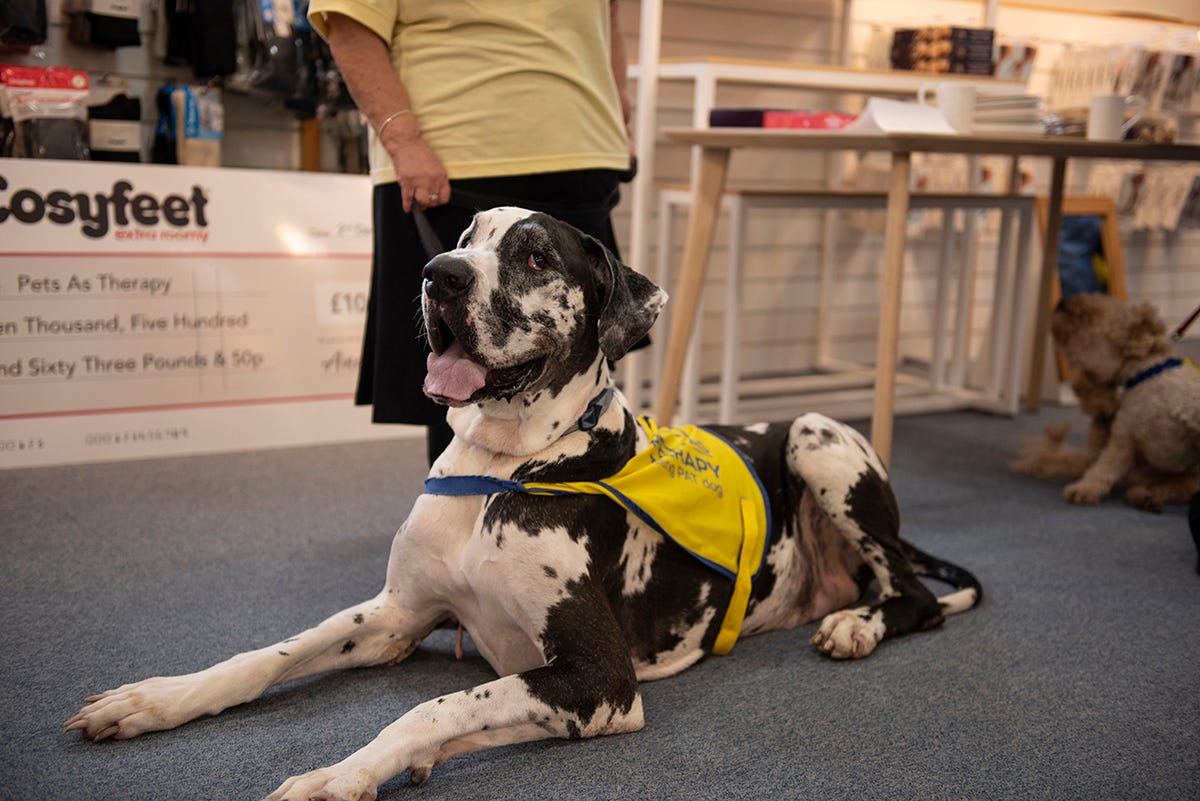 Great Dane, Sam
Shelia and her husband John brought their 2 golden retrievers and half-brothers Kelvin who is 3 and a half and Oslo who is 18 months old. Shelia absolutely loves Cosyfeet, they have visited our shop a lot.
Her two gorgeous retrievers hardly needed the PAT dog training, it was almost like they were made for it.
They're both very clever. When Shelia and John lose things at home such as their slippers or the phone, the dogs seem to know just how to find them. They also love tidying up, whenever something is left on the sofa, they will pick it up and put it away.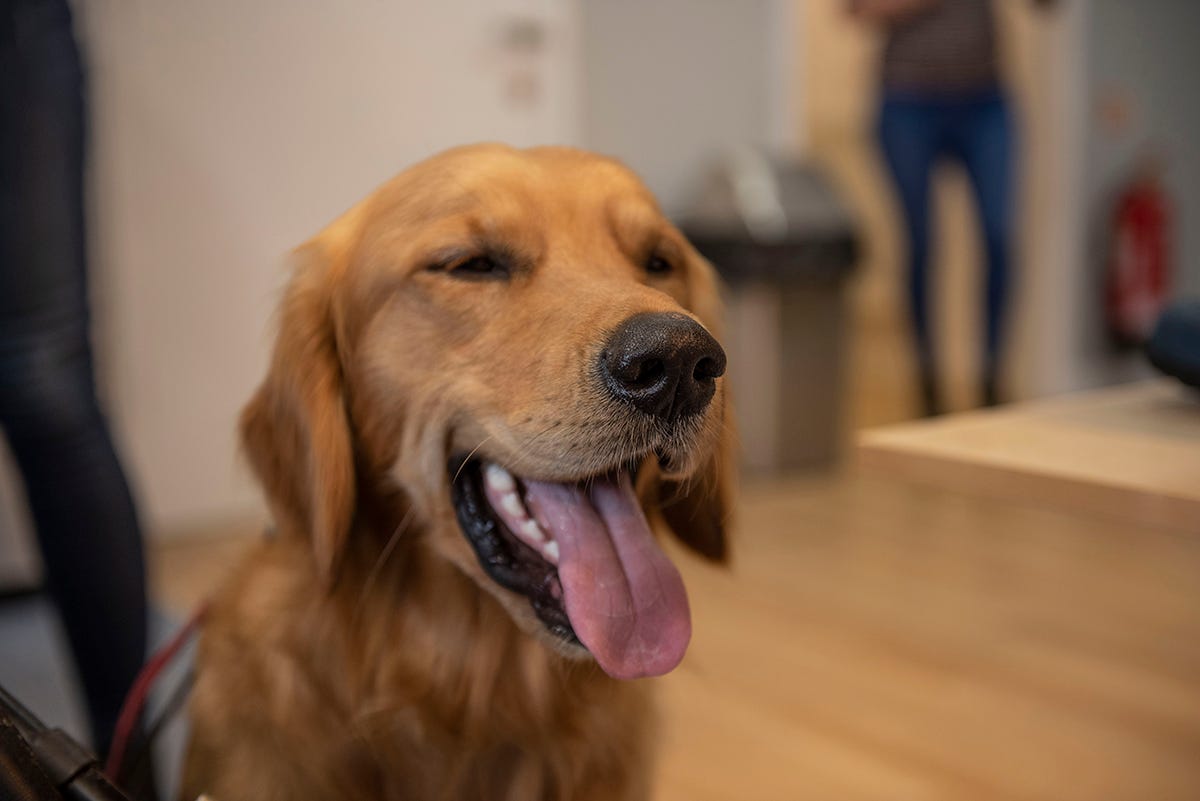 Golden Retriever, Oslo
Kelvin and Oslo visit universities with PAT and the students love seeing them.
Shelia is a retired teacher, so she loves having the chance to go back into schools and help kids in another way.
For 3 years they have been visiting a special school in Trowbridge once a week, there was a wonderful moment at the beginning of these visits where Kelvin went up to a boy in a wheelchair who was known to be very shy and had refused to look up through the whole session and put his paws gently on the boy's lap, the boy then slowly lifted his hands up to feel the fur. The boy then looked up and smiled such a huge grin, Kelvin then licked the boy on the forehead and he let out a very loud chuckle!
Now, every time Kelvin and Oslo visit this special school the boy smiles straight away and points at his forehead.
Golden Retriever, Kelvin
We have been raising funds for Pets As Therapy by donating money from sales of two of our best-selling men's and women's slippers Richie and Holly. A donation is given for each pair sold.
Stuart Lindsey was invited to be on the PAT Board of Trustees after his long service as a Volunteer Area Coordinator for the charity. He and his wife run a dog training business called Little Orchard Dog Training and work regularly with dogs who are being prepared for Crufts.
"It's easy to see why visits from these therapy dogs are so relaxing and uplifting for people," says our Cosyfeet Finance Director, Jackie Bemmer, who presented the cheque on behalf of our brand. "They really were ideal party guests and enjoyed lots of attention from our staff."
If you would like to find out about volunteering or fundraising for Pets As Therapy, or would like to request a visit from a Pets As Therapy volunteer and their therapy animal, see www.petsastherapy.org