Scientifically proven to increase your circulation
£249.96
£208.30
without VAT
Product details
Improve your circulation and reduce swelling & pain
Do you have swollen feet and ankles? Or aches and pains in your lower leg? It could be caused by poor circulation. Using electrical muscle stimulation, this powerful and effective circulation booster may actively improve your circulation.
Created by Revitive, inventors of the original circulation booster, the Medic is their most innovative and medically powerful model. Developed and tested by researchers at leading UK universities, it's shown to reduce pain, swelling and other symptoms of poorer circulation.
It also incorporates the advanced IsoRocker which allows a greater range of ankle movement, replicating heel-toe raises. This rocking action allows movement of the ankle joint, without placing undue pressure on legs and feet.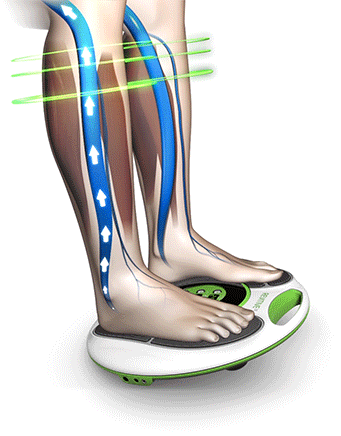 London South Bank University specifically investigated the ability of Revitive to relieve symptoms of poorer circulation caused by inactivity. Results showed that Revitive very effectively increased circulation and relieved swelling.
Click here to find out more about Revitive clinical trials and customer stories.
The Revitive Medic is safe, relaxing and easy to operate. Use it while you watch TV or read a book! It has a remote control and is cordless and rechargeable so you can take it anywhere! With 99 intensity levels, you can adapt it to meet a range of circulation needs.
Over a million people have bought a Revitive Circulation Booster to help improve their circulation. If you have poor circulation, a sedentary lifestyle or limited mobility, you could make a real difference to the quality of your life.
Speak to a medical professional and find out how Revitive Medic is now suitable for those with Osteoarthritis or Diabetes, as well as for those with Poor Mobility, Muscle Weakness and in Post-surgery recovery.
Using Revitive Medic for just 20 – 30 minutes a day may help you to:
Reduce swelling in your feet and ankles
Reduce pain in your legs and feet
Alleviate tired, aching legs and feet
Strengthen your leg muscles
Actively improve your circulation
Revitive is simple to use:
In a sitting position, place bare feet on the footpads
Using the remote switch on and set desired intensity level
Sit back, relax and let Revitive go to work - relieving tired, aching legs and feet
What does it feel like?
As you increase the intensity you will start to feel a tingling, 'pins & needles' type sensation. The Electrical Muscle Stimulation will cause the calf muscles to contract and relax.
The Revitive Medic should be used whilst seated.
Unsuitable for people who are:
Fitted with an electronic implanted device such as a heart pacemaker or Automatic Implantable Cardioverter Defibrillator (AICD)
Being treated for, or have the symptoms of, an existing Deep Vein Thrombosis ("DVT")
Pregnant
Read instructions in full before use. Use only as directed.
Revitive Moisturising Foot and Leg Cream - Conditions and moisturises feet & legs. Applying this cream to the soles of the feet before using Revitive Circulation Boosters can help improve the delivery of electrical stimulation.
The Revitive Medic is supplied with a 3-pin UK plug.
As part of WEEE compliance Cosyfeet contributes to a fund that helps councils improve their collection facilities for waste electrical goods. To find your nearest participating recycling site, please visit www.recycle-more.co.uk.
CE 0120
*The RRP of the Revitive Medic is £299.96
Feefo reviews
We've partnered with Feefo, to help us collect genuine customer reviews. After you have received your order from us you will receive an email asking you for feedback about your purchase. Giving this feedback need take no more than 15 seconds.
Delivery & returns
Our standard UK delivery charge is £4.99 per order.
We aim to despatch orders where goods are in stock within 24 hours of receipt. Occasionally it may take up to 48 hours (we do not despatch at weekends or on bank holidays). We use Royal Mail Tracked 24 which aims to deliver goods within 24 hours of despatch and delivers every day except Sunday.
Tracked Priority Despatch, Convenient Collect and Overseas Delivery are available on this item. Please click here for details.
For non-UK customers: Information on cost and delivery estimates are shown in the checkout.
Returns...
This product is covered by our "1 Year No Quibble Guarantee" so it can be returned at any point within that time for free (within the UK) for an immediate exchange or refund. Please click here for further details.