8 Feb 2019 09:00:00
Cosyfeet has been awarded the Feefo 'Gold Trusted Service Award' for 2019
We're partnered with Feefo, to help us collect genuine customer reviews. We're delighted to announce that we've received the highest possible award from Feefo for our service based on genuine feedback from customers.
Here is Audrey and Liz from our Cosyfeet shop proudly holding up our Gold Trusted Service Award certificate. Thank you Feefo!
Read our Feefo reviews here.
7 Feb 2019 13:20:00
Valentine's Day is just around the corner. It is easy to overlook our feet but it is really important to care for them if we want to stay healthy and active. Caring for your feet can help reduce pain and possible infections. Your lower limbs work hard, the least you can do is give them a little love!
Read on to discover 5 easy ways to give your feet the attention they deserve this Valentine's Day:
1. Give your feet a good soak
Tired or painful feet deserve a good soak in this luxuriously cleansing Botanical Foot Soak after a long day. This moisturising product contains B5, a known moisturiser and skin softener along with Tea Tree Oil, Lavender Oil and Geranium Oil – all botanical oils known to have a soothing effect on the skin.
2. Get your nails looking their best
To enjoy healthy looking toenails it is important to look after them and keep them cut. This Professional Nail Clippers and Nail File Set is recommended by podiatrists. The clippers and file are easy to use at arm's length and come in an attractive pouch.
3. Moisturise with Manuka & Mint
Keep your feet in tip top condition with a daily moisturise. Your feet will feel refreshed, smooth and smell good. Manuka is a known antimicrobial ingredient to help protect your feet and mint is a refreshing and soothing botanical. This Manuka & Mint Foot Balm will absorb easily into the skin and protect your feet.
4. Keep feet warm and snuggly
Sheepskin fleece insoles are cleverly combined with a shock-absorbing, cushioning material for the ultimate in comfort and warmth. Wear them indoors or in your boots and shoes when you're out and about. Luxury CosyCushion™ Sheepskin Insoles keep even the coldest feet warm!
5. Wear comfortable footwear
Finding the correct footwear for your feet is one of the most important ways to keep them happy. Whether you have wide or swollen feet, luckily here at Cosyfeet our footwear is specially designed to fit and flatter problem feet. We believe that swollen feet should have the most comfortable, stylish footwear possible. That's why we combine the latest trends with premium materials and expert shoemaking. Style can meet blissful comfort!
Shop our extra roomy footwear here.
7 Feb 2019 09:00:00
To celebrate National Embroidery Month this February we are giving you the chance to win a fabulous Nancy Nicholson Dog Cushion Embroidery Kit worth £45.
To be in with the chance of winning a fabulous Nancy Nicholson Dog Cushion Embroidery Kit worth £45, simply answer our quiz question in the form below by 11.59pm on 28th February 2019. A winner will be picked at random from the correct entries. Terms and conditions apply*. Good luck!
*Terms and Conditions
To be in with the chance of winning an embroidery kit worth £45, simply answer our quiz question via the form above by 11.59pm on 28th February 2019. One prize available. One entry per person. The winner will be contacted by email. Prize cannot be exchanged for a cash alternative. Prize can only be sent to a UK address. We reserve the right to withdraw this competition at any time.
6 Feb 2019 13:20:00
In our January newsletter, we gave you the chance to win a National Book Token voucher worth £50 by telling us about your favourite positive winter memory.
We received over 700 of your favourite positive winter memory entries and it was a joy reading them all.
Congratulations to Kristin Burdsall who has won the competition!
The winning entry appears below:
6 Feb 2019 12:59:00
OT Magazine have featured an article about our Cosyfeet OT Award and the 2018 winner...
OT Magazine have featured an article about our Cosyfeet Occupational Therapist Award, as well as some information about Anastasia Barnes, of the Emerald Centre in Colchester who won this award in 2018.
Read the full article here.
5 Feb 2019 13:20:00
Chinese New Year, also known as the Spring Festival, celebrates the beginning of the new year in the traditional Chinese calendar.
The Chinese calendar is different from the one used in the UK. It is made up of a cycle of twelve years, and each of them is named after an animal: Rat, Ox, Tiger, Rabbit, Dragon, Snake, Horse, Sheep, Monkey, Rooster, Dog and Pig.
The festival date changes every year because it follows the lunar calendar which is based on the movement of the moon. It usually falls on a day between mid-January and mid-February. In 2019, Chinese New Year falls on Tuesday 5th February, beginning a year of the Pig.
Year of the Pig
The Pig is the twelfth of all the zodiac animals. In Chinese culture, pigs are the symbol of wealth. Their chubby faces and big ears are signs of good fortune as well. People who are born in the year of the Pig are said to have a beautiful personality and are blessed with good luck in life.
Recent years of the Pig are: 1935, 1947, 1959, 1971, 1983, 1995, 2007, 2019
Celebrating Chinese New Year
Traditionally, celebrations last for fifteen days, ending on the date of the full moon, when it is at its brightest. The first week is celebrated with visits to friends and family, enjoying special traditions that are designed to bring good luck. For example, on Spring Festival Eve, people set off fireworks and firecrackers, hoping to cast away bad luck and bring good fortune. Fish dumplings, rice cakes and fruits are served at the New Year's meal as they represent wealth and prosperity.
The second week ends with the Lantern Festival which is when people go out to look at the moon, send up flying lanterns, have a meal and enjoy time together in parks and natural areas.
In China, the public holiday lasts for three days and this is the biggest and most extravagant celebration of the year. One sixth of the world's people celebrate Chinese New Year. As well as Mainland China, it's also observed in Hong Kong, Taiwan, Vietnam, Singapore and some other Asian countries as well as Chinatowns around the world.
The celebration decorations are mostly in red. This is because in Chinese culture red is the symbol of happiness, wealth and prosperity, and can ward off evil spirits and bring good luck. Houses and city streets are decorated with red lanterns and red paper cuttings and people dress in red.
As part of the celebration, children are given red envelopes containing money. The amount they receive is usually an even number, but it cannot be divisible by four. In Chinese, the number 4 means death.
Top 10 taboos
Chinese people believe that, as the Spring Festival is the start of a new year, what you do then will affect your luck in the coming year. There are many things you should not do.
1. Do not say negative words
All words with negative connotations are forbidden as you may jinx yourself or bring misfortunes onto you and your loved ones.
2. Do not break ceramics or glass
Breaking things will break your connection to prosperity and fortune. If a plate or bowl is dropped, you must immediately wrap it with red paper while murmuring auspicious phrases.
3. Do not clean or sweep
Before the Spring Festival, there is a day of cleaning. This is to sweep away the bad luck but during the celebration, it becomes a taboo.
4. Do not use scissors, knives or other sharp objects
Sharp objects are thought to cut your stream of wealth and success which is why most hair salons are closed during the holidays.
5. Do not visit the wife's family
Traditionally, the wife moves into the groom's home after marriage. Returning to her parents on New Year's Day means that there are marriage problems and may bring bad luck to the entire family.
6. Do not demand debt repayment
This custom is a show of understanding. It allows everyone a chance to celebrate without having to worry.
7. Avoid fighting and crying
Unless there is a special circumstance, try not to cry. This is to ensure a smooth path in the new year.
8. Avoid taking medicine
Unless you are chronically ill or contract a sudden serious disease, try not to take medicine during the Spring Festival to avoid being sick the entire year.
9. Do not give New Year blessings to someone still in bed
Before you give a New Year blessing, allow the recipient to get out of bed. Otherwise, they'll be bed-ridden for the entire year.
10. Chinese gift-giving taboos
You should bring gifts when paying visits, but some gifts such as clocks are forbidden.
Greetings and blessing for the New Year
There are multiple blessings and greetings for Chinese New Year with many variations even for the most basic "Happy New Year!" One of the simplest is Happy New Year: 新年快乐 (xīn nián kuài lè).
22 Jan 2019 13:20:00
With rumours of snow and colder chills to come, it's no surprise we'd all love the chance to stay inside and snuggle up this winter. Dark days can affect your mood more than you may think.
Instead of just shutting the doors and wishing the cold away, why not prepare your home specifically for some special hygge moments and really enjoy the art of staying in!
Hygge (pronounced; hoo-gah) is a Scandinavian word and lifestyle trend revolved around the idea of being cosy, appreciating the little things and making your home an ideal space for relaxation.
Hygge is about keeping warm, feeling content, simple pleasures and creating special moments. This Danish trend can be the antidote to the stresses of modern life.
6 ways to practise hygge in the comfort of your own home:
Spark light and warmth through candles…
Switch off the bright electric power lights and create a hyggelig (hygge-like) atmosphere at home by lighting candles. The natural light that emits from candles is softer and can make us feel much more relaxed.
We all know keeping warm can help to fight off viruses and infections in winter but did you know, researchers have also said that wrapping yourself in soft blankets for warmth can beat low feelings and anxiety. Also, a big soft cosy blanket is very hygge.
Wear clothes that bring you joy and comfort…
Everyone needs a comfy pair of slippers. Our Purewool™ range was inspired by the Danish way of life – sink into an armchair wearing Bjorn or Frieda and your feet will thank you or team your favourite pair of pyjamas with our Super-soft Bed Socks, made with luxuriously soft brushed yarn with a loose fit for extra comfort. These lovely soft socks can keep away the chill for a great night's sleep.
Turn off the TV and embrace a moment of digital detox. Get lost in a world of fiction and cuddle up and read a book. If you're a big fan of reading, enter our competition to win a National Book Token worth £50!
Whether hot chocolate, hot toddy, mulled wine or a hot lemon water is the one for you. Drinking hot drinks is known to cleanse digestion and help flush out toxins. Ditch the diets for a special moment and enjoy those marshmallows in your hot chocolate.
Enlighten your sense of smell…
Smell is the most sensitive human sense. Whether you choose to light a fragrant candle, burn some incense or cook your favourite soup recipe – your sense of smell can really affect your mood and lifestyle. Adding a few drops of Lavender and Chamomile Slumber Mist onto your pillow at night can be very relaxing, smell gorgeous and send you off into a wonderful deep sleep.
You may be wondering, but why should one take time to hygge? Well, the Danish are always topping the polls and have been voted the world's happiest nation – so, that sways us enough!
Now it's time for you to embrace contentment, get your hygge on, appreciate what you have and cosy up in the comfort of your own home this season.
22 Jan 2019 10:36:00
With Burns Night on the 25th January, we have some great ideas to help you celebrate all things Scottish!
With Burns Night on the 25th January, we have some great ideas to help you celebrate all things Scottish!
A Burns supper is a celebration of the life and poetry of the poet Robert Burns, the author of many Scots poems. The suppers are normally held on or near the poet's birthday, 25th January, more commonly known as Burns Night.
The first supper was held in memoriam at Burns Cottage by Burns's friends, on 21 July 1801, the fifth anniversary of his death; it has been a regular occurrence ever since. The original Burns Club was founded in Greenock in 1801 by merchants who were born in Ayrshire, and had known Burns; they held the first Burns supper on his birthday, the 25th January. Burns Suppers typically include haggis (a traditional Scottish dish celebrated by Burns in Address to a Haggis), Scotch whisky and reciting of Burns' poetry.
Standard order of a formal Burns Supper:
Piping in guests: A piper generally greets the guests, who gather at mix as at any party.
A traditional Scottish bag pipe
Selkirk Grace: All the guests are seated and grace is said, usually using the Selkirk Grace, a well-known thanksgiving said before meals that uses the Scots language. Attributed to Burns, because Burns was said to have delivered it at a dinner given by the Earl of Selkirk:
Some hae meat an canna eat,
And some wad eat that want it;
But we hae meat, and we can eat,
And sae the Lord be thankit.
Soup Course: The supper starts with the soup course. Normally, a Scottish soup, such as Scotch broth, potato soup, cullen skink, or cock-a-leekie, is served.
Haggis: "Piping" of the haggis is where everyone stands as the haggis is brought in. It is usually brought in by the cook on a large dish, generally while a piper plays the bagpipe and leads the way to the host's table, where the haggis is laid down. The host then recites the Address to a Haggis

.
Haggis with 'tatties' and 'neeps' and Scotch whisky
Main course: At the end of the poem, a whisky toast will be proposed to the haggis, and the company will sit down to the meal. The haggis is traditionally served with mashed potatoes (tatties) and mashed swede (neeps).
Other courses: A dessert course, cheese courses, coffee, etc., may also be part of the meal. The courses normally use traditional Scottish recipes. For instance, dessert may be cranachan or tipsy laird (whisky trifle), followed by oatcakes and cheese, all washed down with the uisge beatha, (Scotch whisky).
Closing: Finally, the host will call on one of the guests to give the vote of thanks. Then, everybody stands to join hands and sing Auld Lang Syne to bring the evening to a close.
Are you planning on having a Burns Night supper? We'd love to hear about it!
18 Jan 2019 12:59:00
The University of Brighton have featured a blog about our Cosyfeet OT Award and the 2018 winner...
The University of Brighton have featured a blog about our Cosyfeet Occupational Therapist Award, as well as some information about Anastasia Barnes, of the Emerald Centre in Colchester who won this award in 2018.
Anastasia won £1000 to help create a sensory garden where patients and their families can be purposefully engaged and enjoy quality time.
Read the full article here.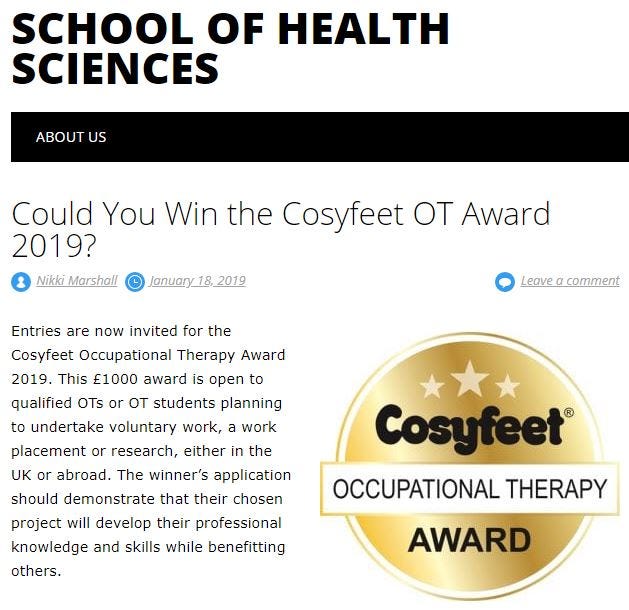 16 Jan 2019 13:20:00
Monday 21st January is Blue Monday, otherwise known as 'the most depressing day of the year' – the third Monday in January has gained this nickname thanks to a combination of bad weather, high debt and failed New Year's resolutions.
Did you know that Blue Monday is actually the same day as National Hug Day? So, there is definitely a way to turn around this Blue Monday lark into positivity. Research shows hugging can relieve stress and keeping warm can keep you well, which is especially good during this winter season.
3 health benefits of hugging:
Hugs can instantly boost oxytocin levels, which can heal feelings of loneliness.
Hugging can lift one's serotonin levels which can elevate a mood and create happiness.
Hugging relaxes muscles to relieve aches and pains.
3 warm Cosyfeet slippers that hug your feet:
Elise

– Enjoy the comfy cushioned footbed
This soft, adjustable bootee keeps ankles and feet cosy while the secure, touch-fastening strap adjusts to fit swelling. Colour shown: Wine Floral
Anna

– Enjoy the wonders of wool
Luxurious 100% pure wool slipper with genuine sheepskin lining. Touch- fastening strap adjusts to fit swollen feet & ankles. Colour shown: Pebble
Dreamy

– Enjoy cocooning your feet in warmth
Stay warm in our snuggly, warm-lined bootee, designed to warm and insulate, ensuring feet and ankles stay cosy. Colour shown: Loganberry
Find out more about our Extra-Roomy Slippers range.