As we welcome in the wonderful warm weather, it's time to start thinking of summer plans, adventures, trips and digging out the exciting summer wardrobe. Whether you have plans to go to the beach, do a trek or adventure abroad – there's something out there for everyone to enjoy what the sunnier months have to offer.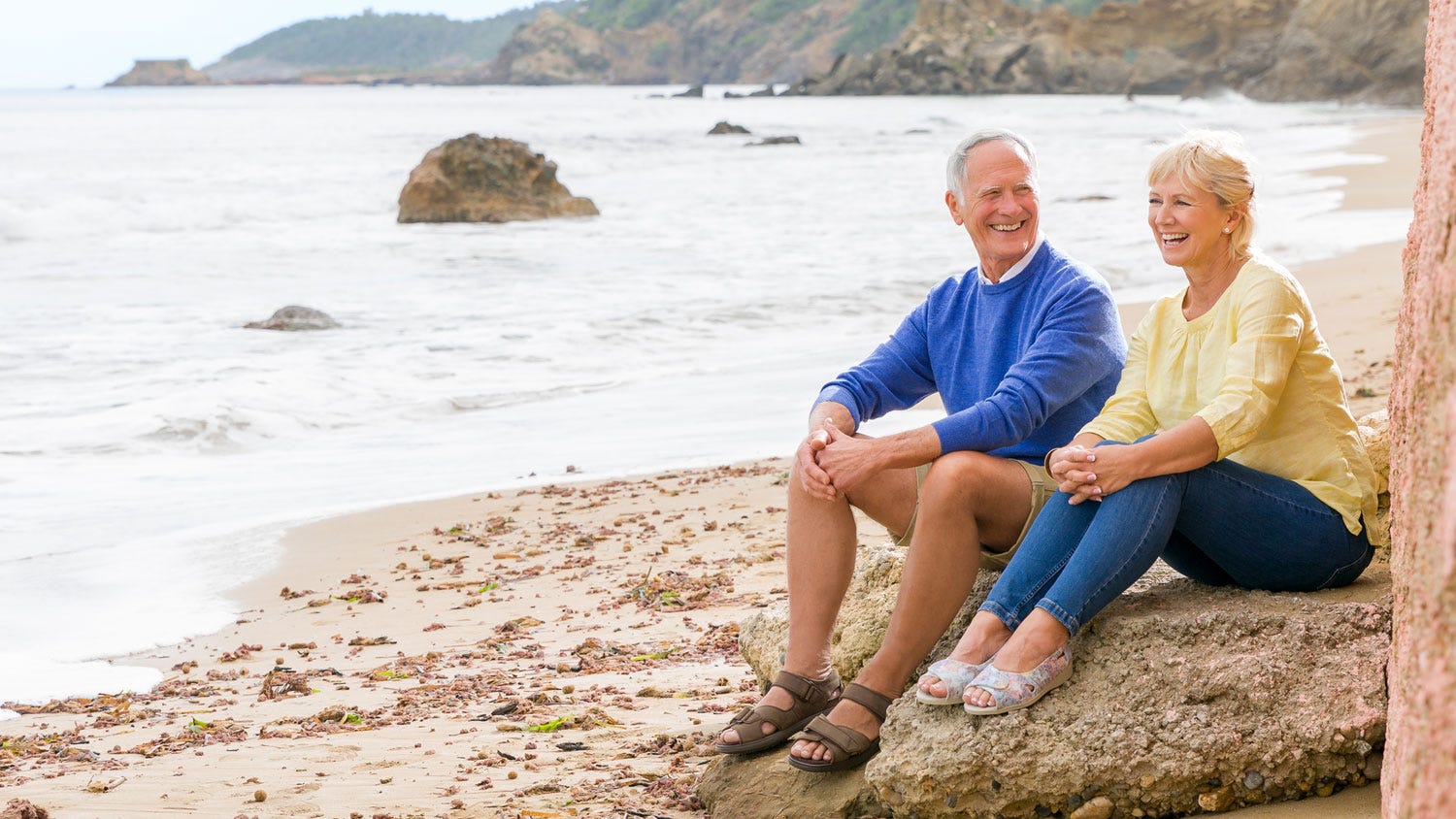 Holidays come in all shapes and sizes. Camping at the coast, cruise ship adventures, sight-seeing in cities, exploring new countries or a nice trip to the seaside. Age UK have put together a great selection of different holiday types; there's something for everyone!
View the Age UK holiday options.
Tips for staying safe in the sun
When enjoying the sun rays, it's important to keep your skin safe in the scorching weather.
Here are our 5 top tips for staying safe in the sunshine:
Sun cream is no doubt one of the most effective ways to stay safe in the sunshine. Whether you're a factor 20 or a factor 50 kind of skin type, ensure you put a layer of sun cream on before you set foot into the sunshine and take it with you so you can reapply throughout the day. Don't forget your feet and especially in-between your toes!
Keep your eyes and head protected
Sun can burn the scalp and also hurt your eyes… especially if you look straight into it! Get yourself some worthy sunglasses, you can sometimes get sunglasses that match your glasses prescription. Save yourself from scalp burns with a hat that fits. Floppy summer hats, bucket hats, straw hats… whatever your style, it'll help to cool you down.
Heat can make people very thirsty and feel more dehydrated than usual. It is important that you keep hydrated and drink enough water. If you can carry a bottle of water in a bag with you, try to keep it as cool as possible to improve the taste. A little sip now and then can go a long way. Alcohol and caffeine are well known for dehydrating, so if you must have a tipple in the sun make sure you match it with an iced cold glass of water.
Everyone should dress for the weather and we're not referring to short shorts. When it's warm out, natural fabrics such as cotton are cooler than other materials and can help the feeling of comfort. Loose-fitting and light-coloured clothes can also help you feel cool and comfortable.
Every now and then it's a good idea to seek out some shade, whether it's under a big tree or under a summer umbrella. Too long in the sun can dry up the skin and occasionally cause heatstroke. Having bouts of sunshine with bouts of shade can help to balance energy.
As we get older, it's very common to suffer with swollen feet and ankles during the summer months. This is because when you are hot, your veins expand which allows fluid to leak into surrounding skin tissue. The widening of the blood vessels are a natural response to our body's way of fighting back to keep itself cool.
However, when this happens your veins struggle to pump blood back to your heart and have trouble fighting gravity. This pulls fluid down to your ankles and feet where it pools which can result in swelling and discomfort.
To help alleviate swelling you could try elevating your feet. It's also important to stay active, drink plenty of water and watch your diet.
Massaging your feet and ankles is another good way to get fluid moving and reduce swelling. The best way to do this is by massaging gently, using both hands and working upwards from feet to knees in a circular motion. Or better yet get someone else to massage them for you, as this ensures that you don't bend your knee and restrict flow.
Don't let swollen feet and ankles stop you from getting outside and enjoying the warmer weather. Give your feet the gift of comfort with extra wide fit shoes for swollen feet.
We've put together a selection of wide fitting shoes that are great to wear on the beach and beyond…
Ideal footwear for beach days
Dare to bare your feet with our extra roomy sandals that are ideal for savouring the sunshine on the beach.
This flattering and supportive style gives you the ultimate in adjustment and comfort thanks to the three touch-fastening straps and soft spongy footbed. Cushioned underfoot for comfort. Adjustable for the perfect fit.
Lightweight, supportive and ultra-adjustable, our ever-popular Connie comfortably fits a range of swelling. The premium leathers are soft and kind while the spongy footbed and shock-absorbing sole gives you blissful, underfoot comfort.
Made from robust, hand-finished leathers, this sporty-looking sandal has twin touch-fastening straps which adjust to fit swelling. The flexible sole is great for active feet while the soft, cushioned footbed and stretchy lining offer exceptional comfort.
Ideal footwear for city breaks
Keep your feet cool in our trainer-style fabric shoes, perfect for exploring new cities this summer.
Breeze through busy days with our stylish, soft-touch casual. The fashionable cup sole gives it a cool, contemporary look. The lace adjusts to fit a range of swelling while the cushioned footbed feels exceptionally comfy underfoot.
A contemporary, leather and canvas casual. It combines practicality with a dash of style, thanks to the on-trend cup sole and sporty detailing. It's packed with special features to give you long-lasting comfort including a seam-free toe, breathable lining and underfoot cushioning.
Ideal footwear for cruise trip travel
Stylish and comfortable footwear to take you from day to night on a cruise ship trip.
This gorgeous, round-the-clock sandal will take you effortlessly from day to night. The pretty, false buckle disguises a touch-fastening strap which adjusts to fit a range of swelling. A comfy, secure sandal for everyday and special occasions.
This smart, 'on-trend' style gives you the support and protection of a shoe with the coolness of a sandal. Crafted from soft, hand-finished leathers with a flexible sole and padded collar, Floyd is made for comfort.
Ideal footwear for walking holidays
Walking holidays are perfect for embracing the great outdoors, whether it be mountains, hills or flat land it's important to make sure you have the correct supportive footwear for all those steps.
Whatever the weather, our CosyTex™ boots and shoes for men and women are 100% waterproof so your feet stay warm and dry. Specially designed to fit swollen feet, their cleated soles offer good grip underfoot and are shock-absorbing which helps take the pressure off your joints.
If you need extra help, we have something for everyone in our Walking & Exercise collection from walking sticks, to rollators to healthy back bags.
Now, to get booking...
Sometimes booking the right holiday can be overwhelming and daunting. Fortunately, there are a variety of companies that offer group travel for a variety of interests, fitness levels and age groups. This can be perfect for those who need help with organisation and if travelling alone, allows you to meet new people easily.
Here are some fantastic UK based companies that cater for older holidaymakers:
Wherever summer takes you, we hope you have a wonderful time!