When the temperature plummets and you can feel a nip in the air, it is time to turn your attention to making your home a cosy and tranquil place.
The NHS says that cold weather can have an impact on your physical and mental health, especially when the temperature falls below 8°C. For this article, we spoke to bloggers and interior designers for their tips and advice on how to keep your home warm during winter.
What temperature should rooms be during the winter?
Cold weather thickens the blood and can increase blood pressure, while breathing in cold air can increase the risk of chest infections, says the Met Office, which is why it is imperative to ensure your home is the correct temperature when the thermometer starts to drop.
The Met Office suggests homes should be heated to a temperature of at least 18°C: "This is particularly important if you have reduced mobility, are 65 or over, or have a health condition, such as heart or lung disease. Having room temperatures slightly over 18°C could be good for your health. If you are under the age of 65, active and wearing appropriate clothing, you may wish to keep your home at a comfortable temperature even if it is slightly lower than 18°C."
The UK's national meteorological service also recommends people should keep their bedroom windows closed at night during cold snaps to help keep homes warm.
Bex, who writes for Clearly Bex, told us she prefers to set her thermostat slightly higher to ensure her home maintains a consistent temperature: "I keep my heating on a constant but low enough temperature to manage through the winter months, personally around 19-20°C. Keeping the thermostat on a stable temperature means my boiler isn't fighting a cold house to warm up again. Keeping the house maintained at one temperature doesn't waste gas, doesn't put pressure on my boiler nor my energy bills."
Book a boiler service
Before the weather starts to turn frosty, it is worth booking a boiler service with a local plumber. The Chartered Institute of Plumbing and Heating Engineering (CIPHE) recommends boilers should receive an annual service to ensure that it not only runs efficiently and safely for the year ahead, but it also validates any warrantees on the appliance. The CIPHE states: "Regular maintenance minimises the risk of breakdown and helps lengthen the lifespan of your boiler too. Regularly servicing your boiler ensures it is combusting fuel safely and efficiently, minimising the risk of carbon monoxide poisoning.
"And for the elderly, vulnerable or those with young children, ensuring you have a working boiler is a must for the months ahead. While for most of us, the boiler breaking down is an inconvenience, for some, a lack of heating and hot water can have severe health and financial repercussions."
Heating engineers across the country will be inundated with emergency call-outs during the colder months, so it is worth booking a boiler service with a plumber as soon as possible. Check that your chosen tradesman has a CORGI registration which means they are legally permitted to carry out any plumbing work involving gas.
Bleed your radiators
Another quick and simple way to ensure your home stays warm this winter is to check your radiators are heating to the top.
If your radiators are only hot at the bottom, then chances are you will need to bleed them, advises British Gas: "It sounds a bit medieval, but all it means is releasing the trapped air at the top, which is stopping the hot water from rising. Simply use a radiator bleed key (about £1 in any DIY shop) to open the little valve at the top. You'll hear air hiss and as soon as you see a drop of water, close it up again. Bingo. Energy-efficient radiators."
Add some accessories
Invest in quality blankets and spend an evening relaxing
Plush, oversized and cosy creations have become popular from both a decorative point of view, as well as warmth.
Many people start pulling out their chunky-knit blankets as soon as trees start shedding their leaves and frost settles on the ground. The combination of spending an evening snuggled up on the settee under a warm blanket with a hot beverage and a book can be the perfect winter warmer. Swapping your extra wide fit shoes for a pair of extra roomy slippers adds to the feeling of comfort for those colder months.
Kate from Kate's Closet is an advocate of spending time relaxing and keeping warm with a variety of blankets and throws: "I'm not a fan of the cold, and I loathe dark, miserable days, but I do know how to make the best of it, by getting in full-on cosy mode.
"Cold, dark evenings are perfect for snuggling; think chunky blankets, a hot drink, preferably with biscuits, and a room lit by candlelight, that's my kind of winter evening."
Use rugs to help retain heat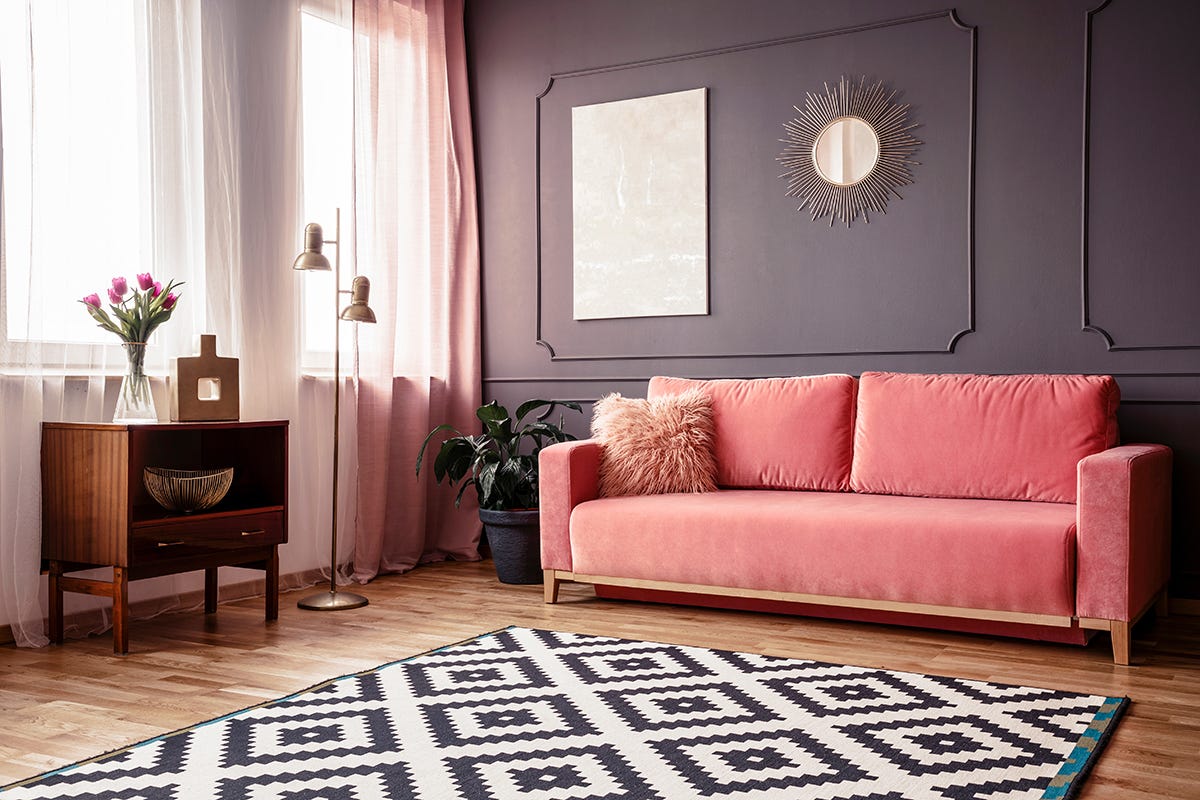 A simple addition such as a rug can help keep a room warm by acting as insulation, as Eve Morgan, an interior design blogger, explains: "Rugs are a great way to keep heat in your home, especially if you have wooden or concrete flooring. Most heat is lost through your hands and feet so cold wooden floors are no good in winter. Rugs act as an extra layer of insulation, so the higher the pile, the more heat will be kept in your room."
For maximum warmth, choose a rug that covers a large area. The more a rug can insulate the floor surface, the warmer the room will stay, states Home Guides: "If a single large rug isn't affordable or practical, consider several matching or coordinating rugs. In sitting areas, like near the couch, make sure the rug is at least large enough to keep your feet from coming in direct contact with the cold floor."
While rugs look great and can help keep a room warm, they can also potentially create a trip-hazard. However, there are ways to help minimise the risk as Mats4u states: "Choose a mat with a non-slip rubber backing, it will help prevent the mat from slipping underfoot and help reduce the amount of movement that occurs. You can also use a non-skid underlay underneath the mat which can be cut to size. This is a relatively inexpensive solution and, more often than not, an effective one."
Use draught excluders
With a variety of draught excluders available in the shops, you are bound to find something that helps keep your home warm as well as adding a touch of colour and style.
Draught excluders are a simple and cost-effective way to help keep your home warmer in the winter and can be placed along door and window frames to stop cold air from creeping in.
Re-arrange your furniture
Sitting near a window can cause radiant heat loss from the body to the glass, which makes you feel cold. Similarly, if you sit in your favourite armchair in front of the radiator, you could be blocking out heat.
However, an easy way to combat this is to re-arrange your furniture as Eve Morgan explains: "As much as you might love having your sofa or favourite chair in front of your radiator, it could be blocking heat from reaching other parts of your room. By moving it away from the radiator, hot air can circulate freely and heat the whole room."
Even though the seasons are changing and the weather is about to become colder, it is worth embracing the winter and start looking forward to the festive season which is just around the corner.