According to a recent study, exercising for just half an hour a day can help prevent depression later in life. Researchers looking at 26-years' worth of data have shown that people who exercise are less likely to become depressed as they get older.
The study, published in the American Journal of Preventive Medicine, recommends around 20-30 minutes of light activity, such as walking or gardening, every day.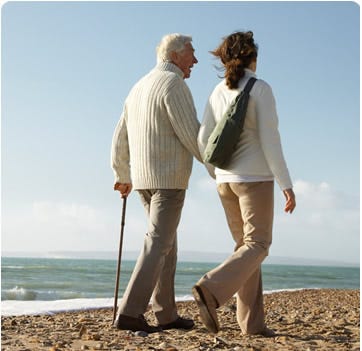 Walking is one of the activities recommended by the study
George Mammen, Ph.D. candidate from the University of Toronto and co-author of the study, said: 'If you're not physically active, you should start. We usually think of exercise in terms of weight and how we look, but it's also a way to maintain mental health far into the future.'
Depression affects around 1 in 5 elderly people in the UK, according to the Mental Health Foundation and those with depression are more likely to suffer from dementia, Parkinson's disease, chronic pain and disability, and even strokes.
While it has long been known that exercise can be used to treat depression, the study is the first of its kind to show that it can prevent the condition from starting.
Click here to view our range of exercise products.