It's not always easy to get large size hosiery that actually fits. Much of the larger size hosiery that is available on the high street is simply longer in length. The difference with Cosyfeet hosiery is that it's made with much more material in the leg part so it's actually roomier all the way up the leg. This means that it is ideal for fitting swollen or larger legs and is far more comfortable to wear than standard hosiery.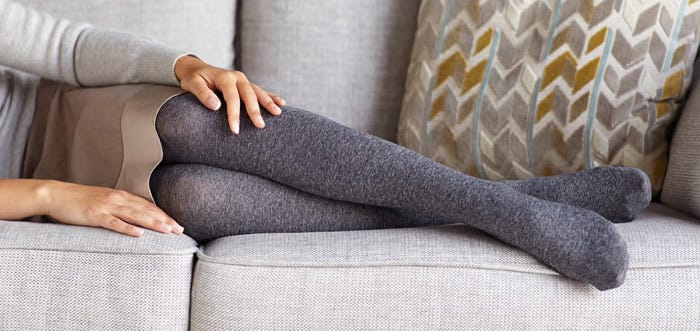 Extra roomy tights from Cosyfeet are ideal for larger or swollen legs
We offer a comprehensive range of extra roomy hosiery including tights, stockings, knee highs and foot socks. We also have a collection of Softhold® hosiery within our extra roomy range which is designed to stay up gently and securely without digging into swollen legs or restricting circulation.
Our extra roomy tights go from small, which fits hips up to 107cm (42"), up to extra extra extra large which fits hips up to 229cm (90"). For the colder months, our extra roomy hosiery is available in a warm-ribbed option. We also have extra roomy stockings with light support which can help improve circulation and reduce leg fatigue.