Owen Barry are a 'distinctively different', British company who sell handbags, outerwear and interiors. They have been producing and manufacturing leather and sheepskin products for over 70 years. They are based in The Tanyard in Street, Somerset Just around the corner from Cosyfeet HQ.
'We pride ourselves as a family owned and ethically run business; upholding a philosophy of British heritage and manufacturing.' – Owen Barry
15% of all leather and sheepskin goes into landfill, Owen Barry save these skins to create something beautiful and long-lasting instead. They do not kill animals for their leather or sheepskin. They are simply saving a material that would otherwise go to waste. They only use the best skins to be sure to offer the finest lifetime guarantee.
A few members of our Cosyfeet team recently visited Owen Barry HQ and met the fifth generation of the Barry family, mother and daughter duo Cindi and Chas who are now running the business. We found out more about their brand and were lucky enough to be shown around their factory to see exactly how their products are made.
To go back to where it all started, in the 1800's Cindi's great grandparents, Walter and Amy Barry who were originally from Ireland moved to Wiltshire to escape the potato famine. They had 12 children, 6 boys and 6 girls. In Wiltshire, they started a Tannery but it was too small to employ all 6 sons.
In the early 1900's, their eldest son Reginald, came to Street and started running the Tannery, (on what is now called The Tanyard, the site where the Cosyfeet shop is also located!) followed in time by his 5 brothers. Eventually, all of the Barry men worked in the Tannery alongside the local leatherworkers.
The image below was taken in 1935, the Barry brothers are the men not wearing hats!
Reginald had 3 sons who he educated in the industry. Kenneth, the eldest, was taught how to cleanse the skins. Cyril, the second son, was taught how to dye and colour the skins. Owen the youngest was taught the manufacturing process. He was sent on a 7 year apprenticeship in Yeovil to perfect the skill.
During Owen's apprenticeship, the Second World War broke out and Owen was called up to serve, eventually coming home in 1946. By 1948, Owen had become a master glove cutter and set up his own business hand-cutting and making gloves.
Over the following 30 years, Owen's business diversified from gloves, to sheepskin, to leather coats and accessories.
Owen's daughter Cindi started working for the family business for a summer job at age 16 in 1976, she never left. Cindi is now running the business full time with her daughter Chas and together they have expanded the British brand to include leather handbag and lifestyle products.
Cindi took us into their factory at The Tanyard to explain and show us the processes of their products from start to finish…
Step 1: Manufacturing Process
For most of their accessories collection, Owen Barry begin with cowhides - all of the skins they select are a 100% bi-product of the food industry.
Cindi showed us examples of the skins that Owen Barry use, in their natural state, unbleached with the hair on. It was interesting to see how thick the cowhide was, it needs to be split for making leather goods. The top part is the full grain layer and the bottom part is called the split suede.
Next, the hair needs to be removed. Many years ago this was done with harsh chemical concoctions such as lime and acid, luckily the process has improved - nowadays a Veet type product is put onto the skin which opens the hair follicles, allowing the hairs to fall out and be washed away.
Once all the surface hair has been removed, the fashion finishes can then be applied such as; colour, dye, shine, metallics and patterns.
Owen Barry work closely with specialist Tanneries around the UK and Europe to ensure the quality of their skin selections and guarantee that no heavy chemicals are used on the skins. Owen Barry only use environmentally friendly tanned skins. The skins are super soft, and tactile, we could really appreciate their attention to quality when handling the leather in their factory.
Owen Barry use these leathers for a variety of products such as gloves, belts, beanbags and handbags, including the designs that have been exclusively produced for Cosyfeet.
.
Cindi was passionately informative about the fact that at Owen Barry they are 'utilising a waste products of the food industry, that has no other commercial use that would have otherwise been thrown away'.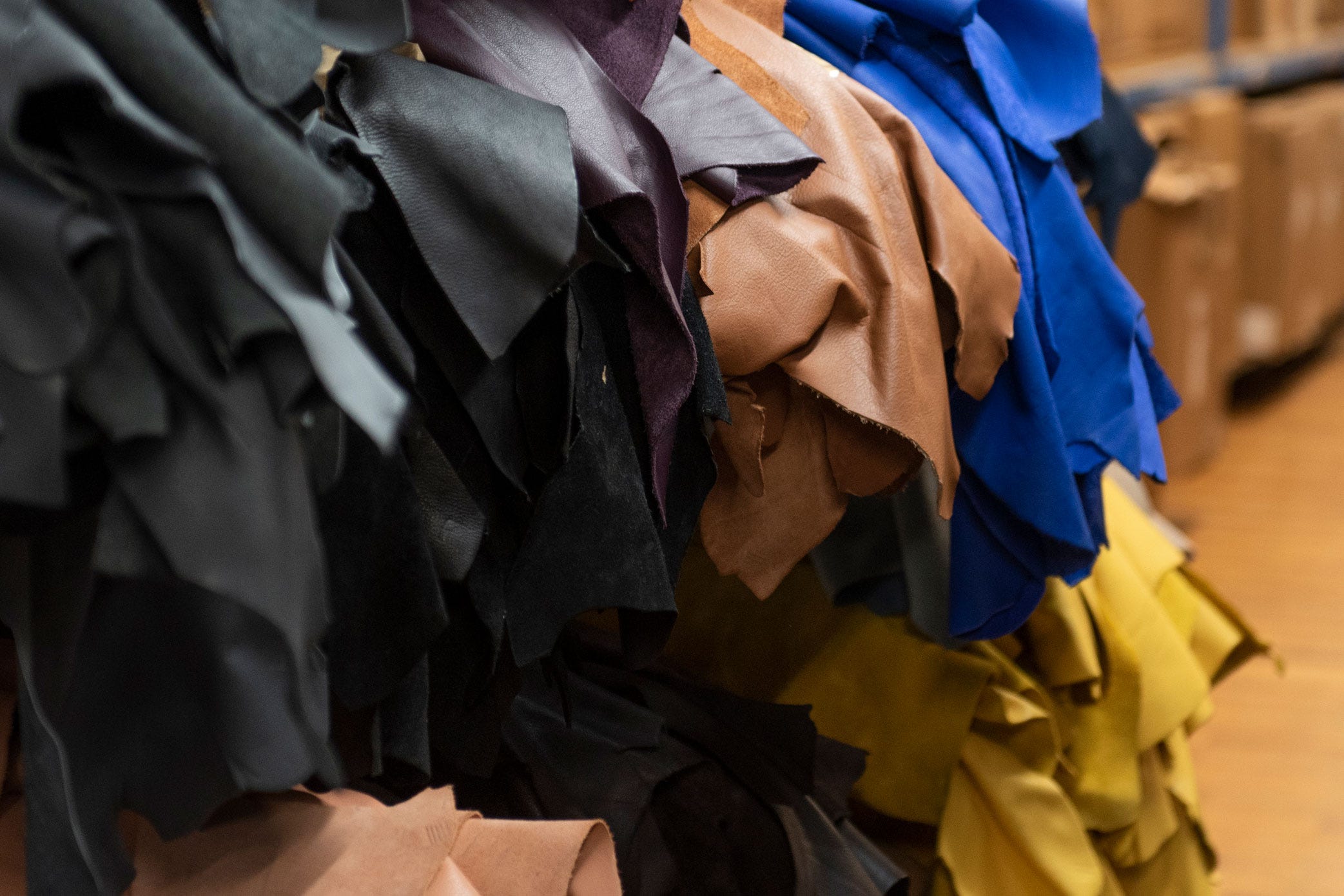 Step 2: Cutting Process
Next, we're taken to the cutting room that has people hand cutting sheepskin, cutting on machines and with stencils.
To cut the sheepskin material into shapes, the wool isn't cut – just the pelt. This is done by holding the pelt in the air while cutting so that it isn't too much of a straight cut.
This small selection of sheepskin that would have been cut from a much larger piece to make a coat is not going to waste, it will become a hat!
Leather cutting is slightly different, the blade is used on the bench to penetrate the leather and make a straight cut and finish.
In the cutting room there are drawers full of cutting shapes, it's like baking for materials. There are various shapes available such as circles, stars and flowers that are very sharp and can be used to create fun accessories for different products.
Step 3: The Prepping Stage
A process called 'tapping' is done at this stage which means someone is checking and supporting the skins to check they're not distorted.
All the components are created at this time, dependant on product and style this could be a handle, zipper section, pockets and extra accessories of a bag. Edges are pre-folded and linen tape added at this stage.
Then the product is put into an internally named 'bus stop' to be taken to the next stage.
Step 4: Manufacturing Workshop
The next stage for the product pieces are to be sewn together on machines by Owen Barry's multi-skilled sewing ladies. It was amazing to see a room full of people working hard at putting the components together.
Step 5: Finishing Area
This is where the products are 'fluffed, puffed and combed'.
Final assembles are made here. The metal parts, and bling such as zips, accessories, rivets, eyelets and buttons are attached to the products in this area.
We also popped our heads round the doors of the holding and packing area, meeting room, photoshoot area and design and development area where the walls are decorated with colourful inspiration like a huge live brainstorm.
We thoroughly enjoyed our visit to Owen Barry and the chance to look around the factory and see what goes into the process of their product creation and hear more about the history of the brand.
We'd like to say a huge thank you to Cindi, Chas and the team at Owen Barry for giving us an exclusive insight into their brand and letting us feature them on our Cosyfeet blog.
Get the look
Owen Barry's handbag collection is full of various sized luxury bags that are all lightweight and practical. Made from either leather or sheepskin and some combined. They sell gorgeous backpacks, clutches, cross-body bags, totes, shoulder bags and more.
Here at Cosyfeet we adore the Owen Barry handbags range and their brand ethics so we commissioned them to make exclusive unique colours of two of their bestselling handbags for our spring/summer 2020 photoshoot.
To get the look, team the Owen Barry Shelly Cowhide Shoulder Bag in Savannah Tan with our Cosyfeet Kama shoes in Leopard Print for a wild tropical look. Or team the Owen Barry Melody Leather Shoulder Bag with our Cosyfeet Jo-Jo shoes in Pewter Metallic for a bold on-trend look.
Win an Owen Barry Handbag
To celebrate the launch of our spring/summer 2020 collection, and our connection with this ethical brand we're giving one lucky person the chance to win a specially made silver metallic Melody Leather Shoulder Bag from Owen Barry, worth £159.
Melody is a popular leather handbag style at Owen Barry, it easily slips onto the shoulder and is lightweight and secure. The luxe metallic outer material and silver colour gives it a luxurious look and feel. It has one handle and a mixture between zip closures and drop bag areas.
Enter this competition here.