The flowers start to bloom, the evenings get longer, people seem happier and you can finally let those toes get some air!
We've got a great range of spring footwear to ease your feet out of their slipper confines into on-trend comfort for spring:
Pastels, patterns and prettiness are popular in fashion for women for this spring. Don't be afraid to show off in our stylish footwear at an event this season.
Read on for some tips on how to put that zing into your outfit this spring...
Embrace the floral footwear:
Floral footwear is definitely on our minds this season, especially with The RHS Chelsea Flower Show just around the corner.
If you have sensitive toes, and like to look cool and casual in a lightweight seam-free design - try our Sammi shoe. The seam-free toe area is ideal for sore or sensitive toes.
The Sammi shoe comes in two gorgeous floral designs, English Rose and Navy Rose.
What our customers are saying about Sammi:
'Well made, stylish with a good colour.'
'Lovely, comfy, lightweight shoe.'
If you have swollen feet but would like to look stylish and contemporary - try our Kama shoe. The cushioned footbed feels exceptionally comfy underfoot and the laces can adjust to fit swelling.
Our Kama shoe comes in one gorgeous floral design called Petal Print.
What our customers are saying about Kama:
'They are so comfortable and attractive!'
'Very comfortable, even with swollen feet. I would recommend them.'
Feel good in fabrics:
Our fabulous fabric styles are soft, cool and comfy. Lightweight and easy to wear, they're ideal for holidays, days out or relaxing at home.
If you need support at the heel but still want a spring style that can free your toes - try our fabric sandal called Molly.
The Molly comes in six gorgeous colours and patterns and is perfect for staying cool on warmer days as it is cotton-lined and easily adjustable.
What our customers are saying about Molly:
'Stylish and comfortable.'
'Lovely product, pretty yet smart.'
For those with swollen feet who still want to look feminine and flattering - try our fabric shoe called Koryl.
This best seller is made of beautiful fabric, combined with an adjustable leather-look strap and button detail. Stiffeners in the heel area ensure a comfortable and supportive fit around swelling. Available in seven gorgeous colours and patterns.
What our customers are saying about Koryl:
'Beautiful and soft shoe for spring summer.'
'Smart yet comfortable with nice textured fabric'
If you're looking for a lace-up with extra depth - try our casual Matthew trainer style shoe.
This stylish, seasonal shoe is made of leather and canvas and has an on-trend cup sole. With a shock-absorbing footbed, seam-free toe area and breathable mesh lining this shoe is fit for those with a variety of foot problems.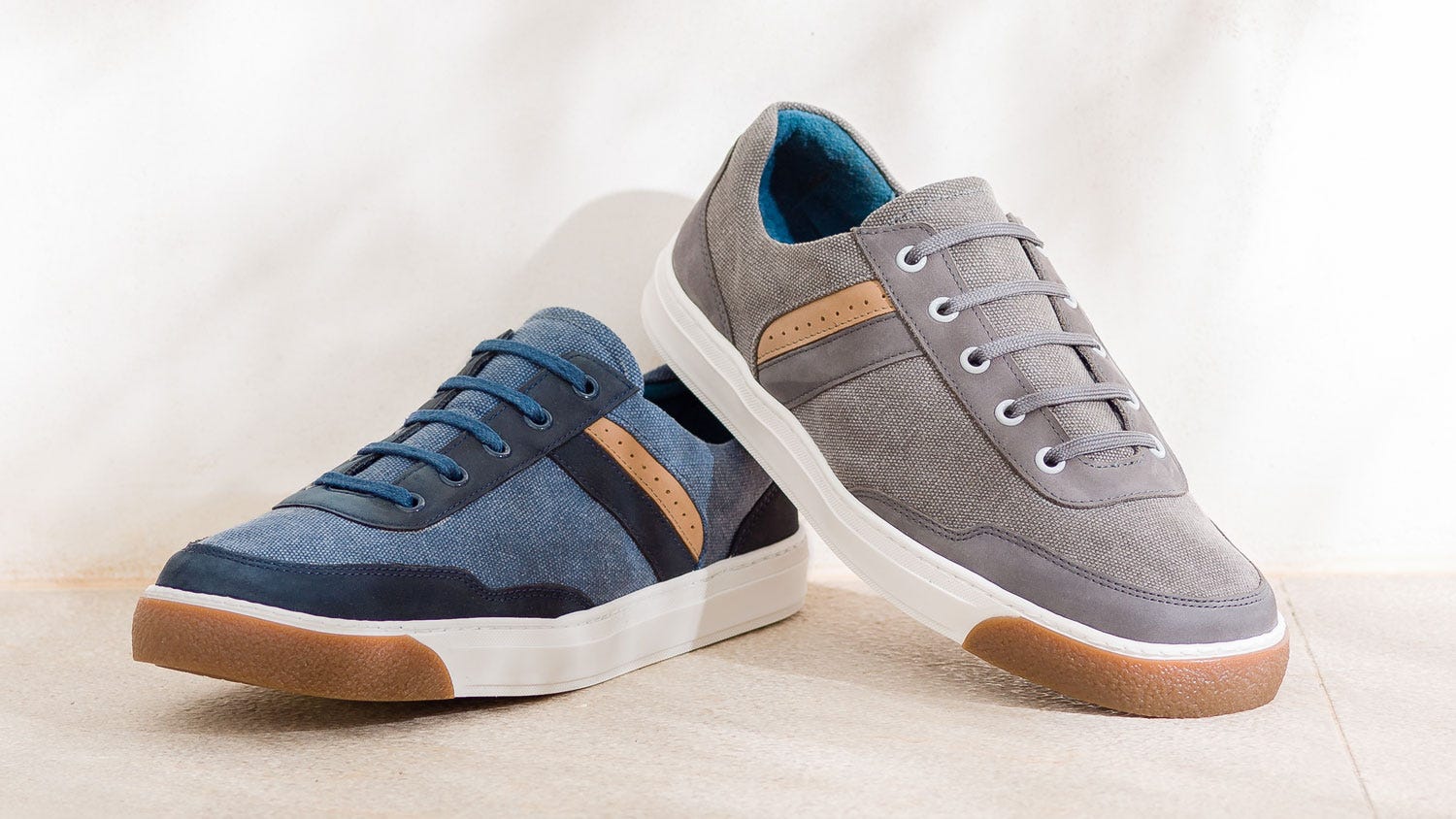 What our customers are saying about Matthew:
'Stylish, comfortable and good quality.'
'These shoes are brilliant! A pleasure to wear.'
Step out in sandals:
Our stylish sandals will keep you cool and comfy all season. Whether it's a day at the beach or a night out with friends, you'll find a style to suit every outfit and occasion.
If you're looking for a round-the-clock sandal that will take you effortlessly from day to night - try our Salsa.
This gorgeous sandal comes in a choice of four fabulous colours, with a just-right heel. The false buckle that disguises a touch-fastening strap can adjust to fit a range of swelling.
What our customers are saying about Salsa:
'Good fit. Love the colour. Looking forward to wearing them on warmer days.'
'Lovely sandals in the sorts of colours I've been looking for.'
If you're looking to protect your toes but still enjoy the airy, lightness of a sandal - try our Francesca.
This contemporary, closed-toe design adjusts to fit swelling while the soft, cushioned footbed gives blissful, underfoot comfort.
Bring a bit of glam to an outfit with Francesca in our new Gold Dust colour.
What our customers are saying about Francesca:
'Attractive styling for a very supportive sandal.'
'Just what I wanted! An airy style sandal, but with no open toes! They are sturdy yet light and amazingly comfortable. I couldn't be more pleased.'
If you're looking for a sandal with a supportive heel - try our cool style, Bingley.
With a closed back for extra support and comfort, and a shock-absorbing sole, this open-toe sandal design is ideal for those with hammer toes, misshapen or swollen feet.
What our customers are saying about Bingley.
'Great sandals. Good fit and quality.'
'Fair amount of support with good width and length.'
View our full range of women's footwear or men's footwear to find footwear to suit your style this spring.
Don't forget to finish off your spring outfits with lightweight socks, cool socks or the comfiest hosiery you'll ever wear!