PDSA saves Tigger the cat
He may be named after the popular character from Winnie the Pooh stories, but one Scottish cat has proved that not every Tigger can bounce after a 35-foot fall from a third floor apartment left him fighting for life.
The nine-year-old ginger cat needed life-saving emergency treatment at PDSA's pet hospital in Edinburgh after being blown from a third floor balcony during the recent bad weather.
Tigger's owner, Alexis Lennie, became concerned when he went missing one evening. After a frantic search, she discovered a neighbour had found the badly injured cat and rushed him for urgent veterinary care.
Once reunited, Alexis took Tigger to PDSA's hospital on Hutchison Crossway, where the charity's vets and nurses battled to stabilise his condition. As well as two broken ankles, Tigger also had a build-up of fluid on his lungs.
PDSA vet Andrew Hogg said: "Tigger is very fortunate to have been found alive and well after such a fall. His leg injuries are among the worst I have seen - but our first priority was to drain the fluid from his chest and make sure he was strong enough for us to operate and repair his broken bones.
"The fractures to his right ankle required particularly complex surgery because a large piece of bone had completely broken away. An external fixator is currently holding the bone fragments in place to allow them to knit back together."
Since the surgery Tigger has made steady progress and is a regularly visitor at PDSA for check-ups.
Alexis says: "Tigger has adapted well to his external fixators. He's still on cage rest at the moment, but he's really eager to get out and about every time I open the cage to feed and clean him.
"He's is not out the woods yet as we don't know if the bones will heal but PDSA have gave him every possible chance there is. The vets and nurses have been brilliant - I don't know where I would be without them."
The PDSA is our chosen charity of the year. We aim to raise £5000 to help the important job they do treating the sick and injured pets of people in need.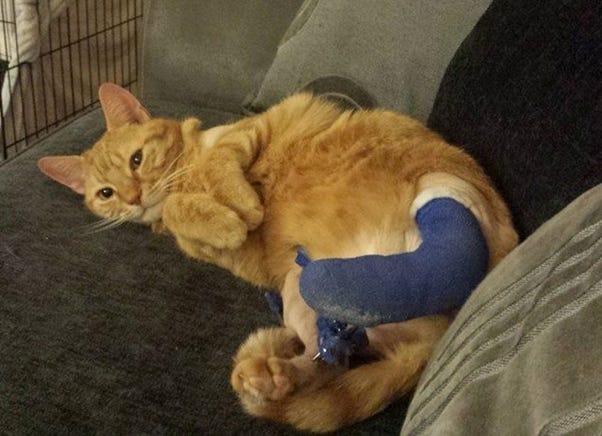 Tigger resting at home