Situated in the heart of the magical town of Glastonbury in Somerset, Jake Nicholson-Lailey is the owner of florist shop, Abundiflora. We were lucky enough to spend some time interviewing him to find out about floristry, seasonal flowers and learn, first hand, how to make a perfect spring bouquet...
Can you give us a history of your brand and tell us how you became a florist?
'It was a bit left turn at the traffic lights, I was studying a Business and Management HND at a local college with an idea to become a solicitor or an accountant but in my final year I was diagnosed with a bowel condition which meant I wasn't going to be able to go to University to finish the degree. So, I took a year to recuperate and decided not to pursue the Business Management course any further.
I'd always had an interest in flowers. My mum had worked with dried flowers in the 80's when it was first a popular hobby. I had previously been inducted to help with the flower rota at the local church during my school years. So, I'd dabbled in working with flowers from a young age. I then decided once I was better to go and study Floristry and finally start doing something I actually enjoyed!
I spent 2 years studying Floristry and travelling back and forth to Wiltshire college. During the summer after the first year of my course I opened my florist shop here in Glastonbury alongside continuing my studies. The rest is history! The shop opened in 2009 and I've been here 11 years now. Absolutely love it! I'm so lucky that I have managed to find my calling.'
How did you come up with the name Abundiflora?
'My youngest sister is called Florence. We have a big family, there are 7 of us but Florence is the baby. When my mum had Florence, she said that she would never shorten the name to anything but now all we do is call her Florrie. It just happens. We also call her Floribunda which is the second part of a lot of different Rose varieties. So, there's a Florrie-Bunda type of Rose.
I felt that as a name in itself was too obvious and too many people would know that word, so wanted to switch it up a bit. Abundiflora is actually latin and means 'an abundance of flowers'. So, that's where it came from but it also stems from the love of Florence's name as well and twisting it on its head.'
What is it like being a florist?
'Very rewarding, obviously you're touching very important parts of people's lives so we're there for people when they bring their babies into the world, we're there when they find the loves of their life and get married and we're there when they have to say goodbye to people they love. We touch all the milestones, with big birthdays in between and the anniversaries. The sheer variety of people that we meet on a daily basis, especially in the town of Glastonbury, is very exciting and rewarding yet also very tiring. I stand up all day. It's long hours, it's very labour intensive, which I think a lot of people don't realise.
All the flowers that we have here have to be processed so we have boxes and boxes of dried stems arriving and every single one of those has to be inspected, has to have its leaves removed, has to be cut, and this is every single stem! That part of the role is very labour intensive and that happens at least twice a week. On the times that we're not having stock come in, I could be working on wedding quotations or balancing my books as I'm a sole trader so there's a lot of that to do or I'm ordering stock that I will need for the coming days.'
How many team members do you have working here?
'We had a work experience girl come and work here who was so lovely and worked so well that she was taken on as a staff member for 2 days, as the business was expanding. 1 day a week my partner comes in to clean all the vases, which is a big job! They're all glass, so they have to be spotlessly clean otherwise it wouldn't look as great or be as good for the flowers.
My mum also works with me 1 day a week. It's come full circle, from me sitting at my mum's feet watching her dry flowers to her in here helping me, which is really lovely.'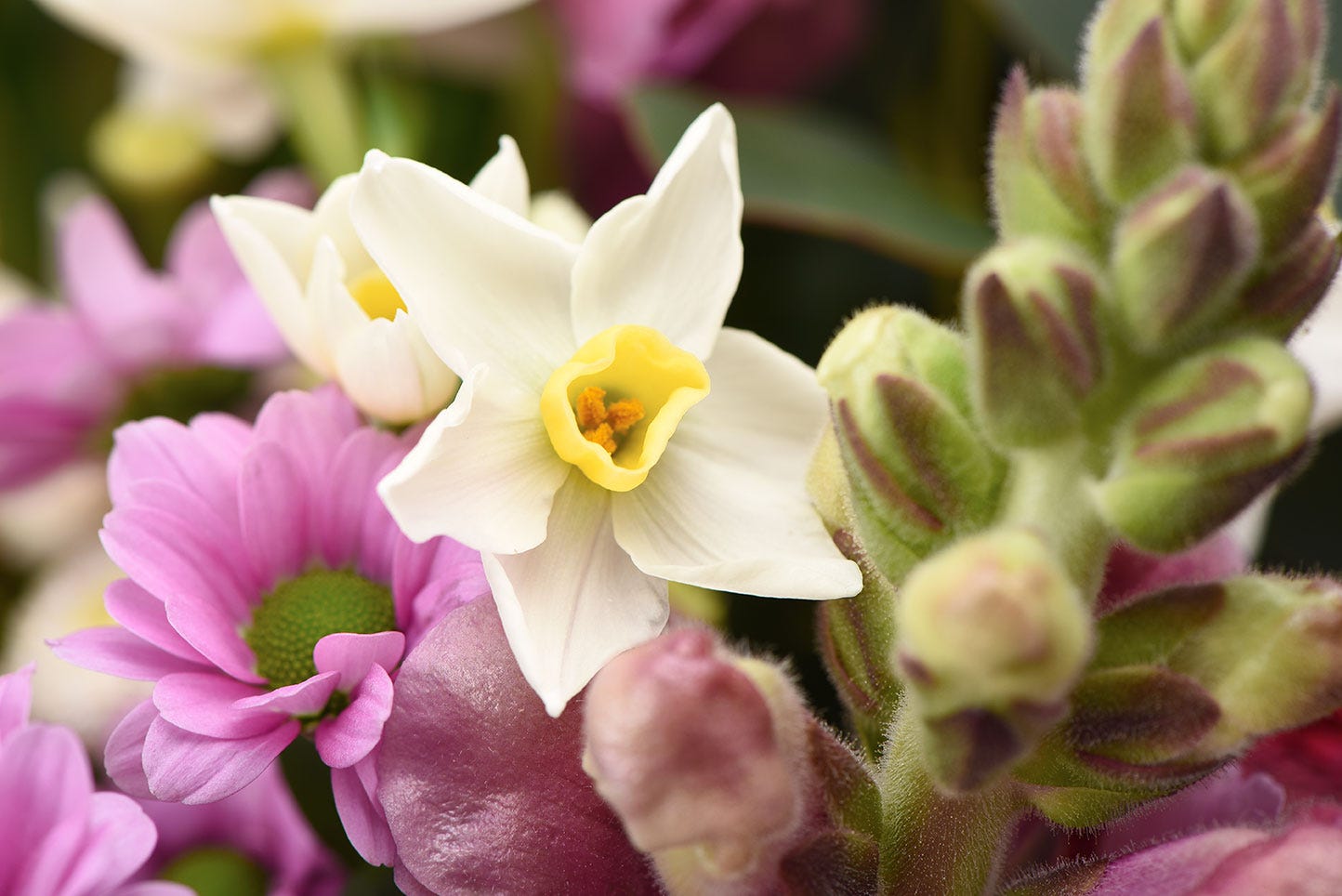 What do you love most about being a florist?
'One of my favourite parts of this job is finding new varieties. It's nice when new things come to the market which happens very frequently actually. It can take 7 – 14 years for a new variety to be brought to the market but that's a continuous process, so there is new stuff coming out all the time. That's really exciting! I've been over to Holland a few times and met with the growers. Most of it comes through Holland, as they have the world's largest flower market. Then the flowers are sold on to wholesalers and exporters from there. We're fortunate enough to buy directly from the growers so we get the freshest stock. It was a real privilege to go over there and meet the growers and see the stems that I have in the shop actually growing in the soil. It was so amazing to see!
Aside from that, shop based, funeral work is my biggest honour as I think it's kind of one of the last things you can do for someone, so we take it really seriously and try and make sure it's as personal and perfect as possible. I take that very seriously, I take it all seriously – weddings are of course very lovely! Being involved in people's big days, I do get invited to the evenings of some of them. There are weeks and weeks of work involved for the build up to weddings. Although it's stressful, it's also really wonderful when you see the bride crying happy tears because she really likes her bouquet. It's always a sleepless night before a wedding though, however many hundreds I've worked on. There's a lot of science in floristry which is really interesting too.'
What are the most popular flowers for spring?
'For spring, people love Narcissi, which is a technical term for a Daffodil, also coming from the roman god Narcissus. Known for their fragrance, quite strong but fresh. They come with a variety of fragrances. Very popular for spring. Another very popular spring flower is the Ranunculus, which don't have a fragrance but make up for it in their beauty. It's actually the botanical name for a buttercup, as they're part of the buttercup family. Freesias that are beautiful and have a fragrance.
When most people think of a spring flower they think of something with a gorgeous smell or pretty colour but not everything is scented, such as Viburnum – they grow in people's gardens here in the UK. It's a very popular shrub plant. Of course British Tulips are always a favourite. And Hyacinth, that open up to show beautiful colours. Gorgeous fragrance and a bulb that lots of people love to grow.
A lot of spring flowers can be grown in people's gardens which is nice. It is worth mentioning that some flowers like shallow water, especially Tulips, some people think they just need to fill the water to the top of the vase but you really don't as that causes the flowers to rot quicker.'
Abundiflora sell gorgeous fresh spring bouquets to brighten any occasion, see the range here.
5 steps to make a stunning spring bouquet
Equipment: spring flowers, foliage, vase, flower food, scissors, fresh water and twine.
Watch the video below to see how to create a stunning spring bouquet, thanks to Jake at Abundiflora for letting us video him creating this. Read on for specific steps.
Step 1: Prepare your stems
Prepare your stems, clean them so there are no leaves that will fall into the water. It's very important to keep the water clean, to prevent hanging foliage that will create bacteria which makes the flowers rot quicker. A good thing about spring flowers is that they don't have a lot of foliage, they tend to just produce one shoot and flower. All flowers need to be prepared so you can pick them up as you go when making the bouquet. Remove any damaged leaves and chop an inch or two off the bottom of the stems, not too much for now.
Step 2: Create the bouquet shape
Start by holding a central stem in your left hand, add a few additional stems into that at a parallel angle, then once you've got a little bunch, you start alternating your materials, you want the top of the stem by your left shoulder and the bottom of the stem pointing towards your right hip and that will mean it starts to fit in well with your bouquet. This then starts to cross the stems over the top and that starts to create the bouquet style. The next stem then goes on top of that in the same direction and then start to build, while turning the bouquet, and continue. Occasionally use a mirror to check the composition of the head of the bouquet. Turning bouquet, adding more stems in the same direction, really important that the stems don't criss-cross. It won't have anything to rest against otherwise and will mess up the flow of the bouquet. All the stems will be turning in the same direction, you can pull things up and push things down depending on the shape you want and so you're happy with the placement. Add foliage as well as flowers to give the bouquet some texture. Make sure to look at the heads rather than the bottom of the stems, as we will cut those afterwards.
Step 3: Securely fasten with twine
Once you have finished adding your flowers and foliage to your bouquet, take some twine, wrap it securely around the stems of the bouquet 3 times and tie it gently but tightly. You don't want it to ride up the stems. Then cut neatly near the knot.
Step 4: Cut stems to shape
Now is the time to chop the ends of the stems off to the same length so that it can fit in the vase nicely. Using sharp scissors hold the bouquet up in another hand. Chop the bottom of the stems but not too much that the twine can come undone.
Step 5: Neaten up and arrange in vase
Add fresh water to your vase that sits about 3 inches high. It's a myth that flowers need to be in a vase full of water. All they need is a little in the bottom, to feed the ends rather than enough to rot the entire stem. I always recommend adding flower food, from a sachet. This doesn't need to be mixed it will dissolve over time. Then use your fingers to pull the flowers out a bit at the tops to avoid a rigid look. Change the water every 2-3 days and keep away from; draughts, heat sources, direct sunlight and fruit. Now, sit back and enjoy the delightful view of your spring bouquet!
This March we're giving you the chance to win a stunning spring bouquet like this one for a friend or loved one specially made by Jake at Abundiflora. Enter this competition here.