National Embroidery Month in February recognises the talented stitchers who turn needle and thread into an art form.
So, what exactly is embroidery? According to Wikipedia, embroidery is the craft of decorating fabric or other materials using a needle to apply thread or yarn. The word comes from the French word 'broderie' meaning embellishment.
Embroidery, in various forms, has existed for as long as we've been able to produce fabric. Today it is practised all over the world, but it is thought that it has its origin in China and the Near East.
Modern day embroidery
In recent years there has been a huge growth in the popularity of embroidering by hand. Thanks to media such as Pinterest and Instagram, artists can share their work which is inspiring younger generations to pick up needle and threads.
Embroidery can also incorporate other materials such as pearls, beads, quills and sequins. Nowadays it can be seen on caps, hats, coats, blankets, shirts, dresses and even extra wide fit shoes and slippers.
The benefits of embroidery
Embroidery is an art form that is not only beneficial aesthetically, but also emotionally and physiologically. In fact, studies have proven that the hobby offers many benefits.
Development of creativity
From creating the design up to finishing the embellishments, embroidery requires discipline and creativity. It is proven that people become more creative through the continuous exposure and focus on patterns, colours and stitches.
Improves brain function
Engaging in activities that help keep our brains agile is important as we get older. Being able to manoeuvre the thread and needle precisely and creating and following a certain pattern or design can help improve brain function.
Relieves stress
Contemporary embroidery artists believe that hand embroidery has grown in popularity as a result of an increasing need for relaxation and stress relief. Along with technological advancements and social media, people are getting more aware of the need for digital detox and hand embroidery allows for that.
How to get involved in National Embroidery Month
Take a workshop or a class with friends
Learning a new craft is a wonderful way to recharge our batteries and reignite our imagination. It can also have a positive impact on our wellbeing and emotions, especially when we share the experience with others.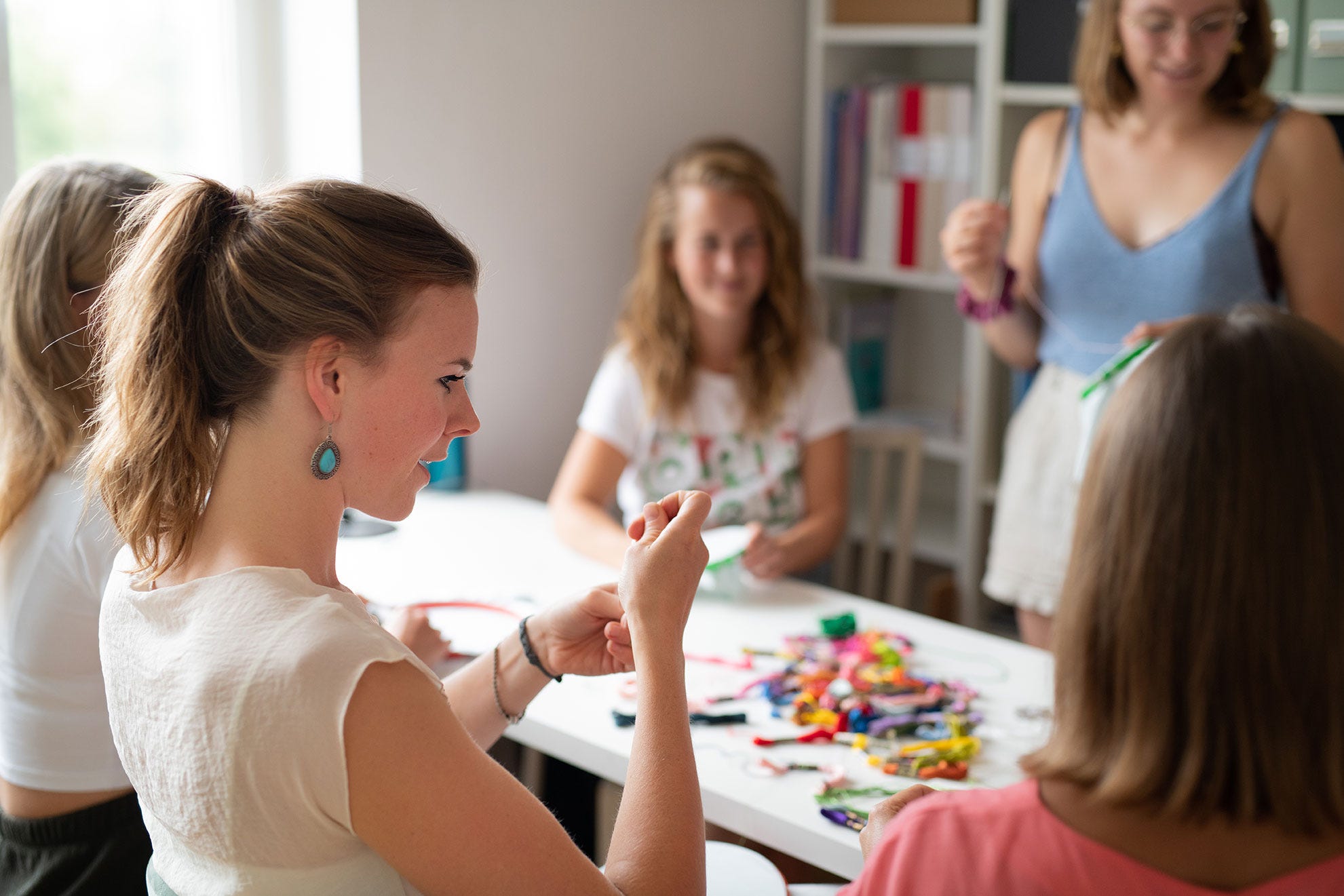 Visit a textile museum
Take a stroll through an art and textile museum in your town or city to learn more about this traditional art form.
Support a local vendor
Visit a market or local shop and pick up something embroidered for yourself or for a friend.
Watch an online tutorial
There are lots of free online tutorials that show the simple embroidery techniques that you need to get started.
This February we're giving you the chance to win a Nancy Nicholson Embroidery Kit worth £40. Enter this competition here.
Do you embroider as a pastime? We'd love to see some pictures of your finished pieces.