Pets As Therapy Exhibit at Crufts
This week we have been catching up with Pets As Therapy (PAT), our Cosyfeet Charity of the Year, to find out about their great success at Crufts. Crufts, the world's greatest dog show is an excellent opportunity for Pets As Therapy to tell people about the amazing work they do.
The Pets As Therapy finalists at Crufts
Pets As Therapy enhance health and wellbeing in the community through the visits of trusted volunteers with their behaviourally assessed animals. Pets As Therapy volunteers visit hospitals, hospices, nursing and care homes, special needs schools and a variety of other venues all across the UK. Their visits provide companionship and friendship and help to tackle loneliness to those in need.
Crufts is a fantastic opportunity to celebrate their achievements. We would like to congratulate Sheena Scrimgeour and Inca, a Labrador-cross, who won the HiLife PAT Dog of the Year. Inca had many nominations, including one from the Norfolk and Suffolk NHS and is highly thought of in the 5 establishments she visits each week, including Hellesdon Hospital, a secure NHS mental health clinic, a dementia ward, Hellesdon High School and a prison. Inca and Sheena have been visiting for over 6 years. An executive in the NHS said, "Both Inca and Sheena are inspirational in the work they do for our patients. Inca visits with her coat shining and her tail wagging, her dark eyes full of compassion. She doesn't judge she just gives them a chance to connect with another living being. One patient says Inca is the best thing in the world." An elderly resident says, "It's hard to put into words the impact Inca has when she visits. You feel her presence in her heart."
A big congratulations must also go to Blu, a beautiful Pyrenean Mountain Dog, and owner Christine Kenyon, from Kington in Herefordshire, who won PAT Show Dog of the Year.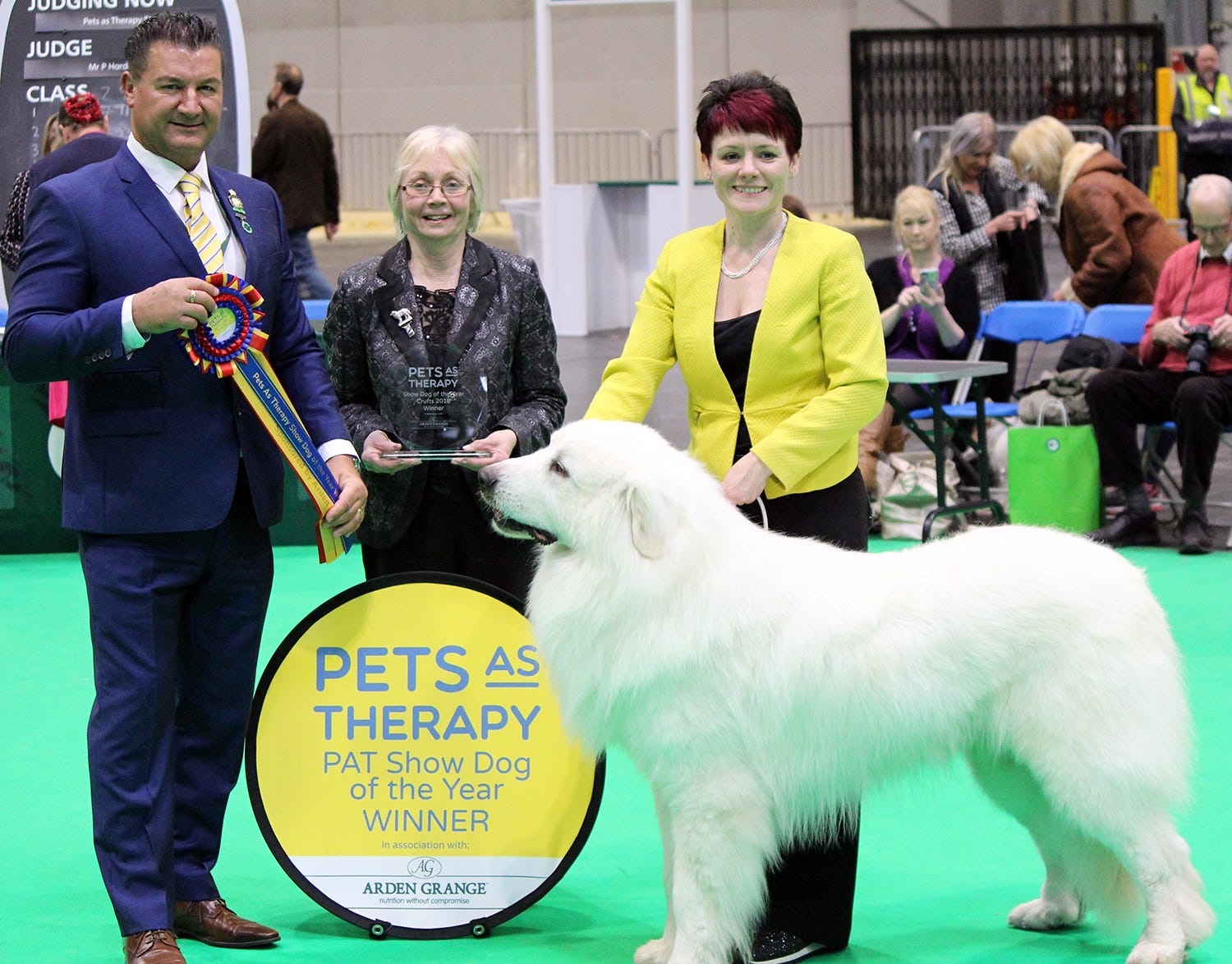 Blu - Pets As Therapy Show Dog of the Year
Cosyfeet wants to help Pets As Therapy continue their vital work. That's why we are donating 25p for every pair of our bestselling Holly or Richie slippers you buy this year. To find out more click here.