Enjoy the benefits of allotment gardening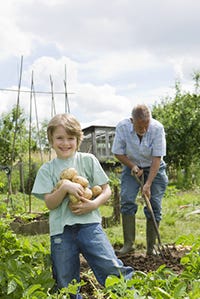 The aim of National Allotment Week (4th -10th August) is to draw awareness to allotment gardens that are available locally and the benefits that they can bring.
So what are the advantages of using allotments? The most obvious one is that you can grow your own fruit and vegetables. As well as the sense of achievement you get from producing something yourself it can also mean cheaper, healthier meals for you and your family. If you don't like the idea of pesticides in your food, an allotment allows you to choose what goes into your soil. You can also grow varieties that you might not find in the shops.
Having an allotment can give you a sense of community and it's a great chance to meet and bond with like-minded people. You might find that you pick up some tips from other gardeners or you may have some of your own that you can share.
You'll be out in the open air too getting some exercise which is good for you, not just physically but mentally. Gardening can be very relaxing as it helps you to live in the moment and it's a good way of relieving stress. An allotment can also give you a peaceful place to escape to.
If you enjoy gardening why not get involved. To find out about starting your own plot and take the first steps to allotment gardening, visit the National Allotment Society at www.nsalg.org.uk.