As part of National Arthritis Week (9th-15th October) we've been looking at which features to look out for when choosing suitable footwear.
For people with conditions that affect the feet such as Rheumatoid Arthritis, wearing the correct footwear is essential if you want to prevent and limit foot problems. According to the National Rheumatoid Arthritis Society, there are a number of important features to look out for when choosing shoes:
1. It's best to choose shoes that are made from leather or a material that will conform to the shape of the foot. Do not buy shoes if they require 'breaking in'. The risk of this is that they may cause damage to vulnerable areas of your foot.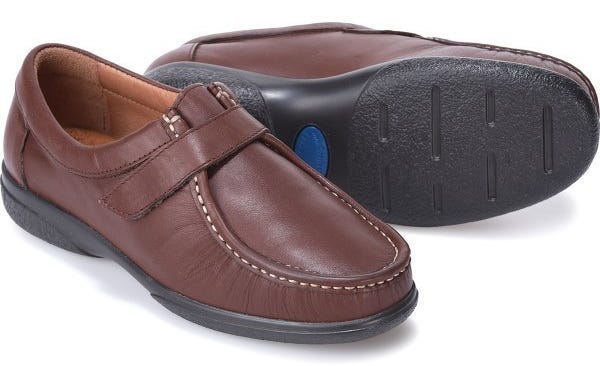 Cosyfeet's Suzi style is made from soft leather that moulds to your feet
2. The shoe linings should be of leather or of a breathable material that will disperse moisture.
3. The soles and heel should be of material that is firm enough to provide support to your feet but soft enough to provide good shock-absorption.
Cosyfeet's Buddy style has good shock-absorbing properties
4. Shoes should have a broad and stable heel with a height which doesn't put pressure on the ankle joint or the forefoot. The recommended heel height is no more than 4cm or 1½ inches but the ideal heel height from one individual to the next will vary in relation to the structure and function of the foot and leg.
Cosyfeet's Hettie style has a broad and stable heel
5. The shoe should have a fastening (either lace, strap or Velcro®) which is needed to hold the foot in the back of the shoe to prevent slippage.
6. The back of the shoe above the heel should be firm enough to support the rear of the foot but the top edge should not dig into the foot.
Cosyfeet's Alison has a soft, padded collar for cushioned support
Click here to find out which Cosyfeet products are suitable if you have arthritis.